19th October 2012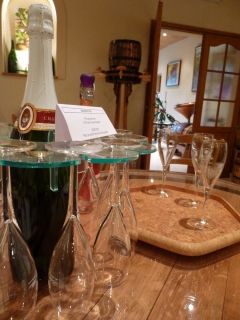 This started as a weekend break, but sort of transmuted into a two week holiday. We're in France, on a tight budget, touring a whole bunch of areas we've never been to but starting in a place we have: Champagne. Last time here we visited a trio of magnificent champagne cellars in Reims belonging to famous names – Ruinart, Mumm, Pommery – and sampled some delicious champagnes. But we also stopped in Épernay on a rainy Sunday when everything was closed except for a little bar down a side road called "
C Comme Champagne
". Here we tasted eight or nine champagnes made by small producers whose bottles never get outside the borders of France. They were superb, many of them every bit as good as the big houses, and most of them were around £15 a bottle.
Which inspired our return trip, to get out of the major towns and actually see the champagne vineyards, and then to bring back enough (bargain) champagne to last a year or two!
Well, "C Comme Champagne" is still where we left it, and the champagnes we tried this evening were also excellent. Our hotel is on the outskirts of Épernay and the room has just about enough room to swing a kitten, though a full-grown cat might bump its head. The bathroom is a tiny cubicle in the corner of the room, like something you'd find in a Tokyo capsule hotel. Hey, it's less than £40 a night. We're here for the champagne.