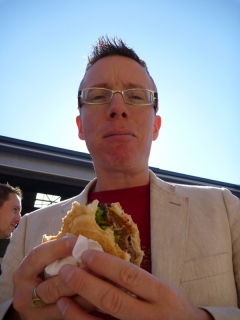 21st May 2011
Australia is a very good place for food. Apparently it wasn't always so; just like Britain they have spent the last couple of decades dragging themselves away from dour meat-and-two-veg meals and into thoroughly modern cuisine. Whereas we tend to blame the privations of the war for our culinary Dark Ages, I guess in Australia it was simply the time required for modern ideas and produce to filter through to a distant land.
We had a splendid last supper at a little restaurant called Rubyos which isn't quite in the "bookings required months in advance" league but certainly does innovative, informal and tasty very well. My favourite dish was the star anise pork belly with sticky coconut rice, but I'll no doubt recall the occasion more than the details as time goes by. We also wandered around a good Saturday produce market this morning, happened to be barely yards from our apartment. It really reminded me very much of the farmer's markets in Barnes, Richmond or Bath although with more coffee stands.
There's not much to call between eating out in Australia and in England. They have better access to good produce over here, in contrast English places perhaps pay more attention to ambiance. In both Australia and England if you're out in the sticks you can still be forced to choose barely adequate fodder, which here is more likely to be a steak and side-salad or chicken parmigiana where in England it might be a soggy meat-and-two-veg.
Australia probably scores over England in breakfast and lunch; in any decent sized town it's easy to find a cafe serving good Eggs Benedict or something more inventive and in Sydney or Melbourne you're spoiled for choice at every turn. You have to hunt harder for such goodies back home.
I wouldn't say Australia has been a culinary adventure. Asia certainly was. Australia was squarely in the comfort zone; modern food just like home but quite often better. Mmm.