11th June 2011
Sorry, this blog includes expletives
Today we went on a guided tour of the main sites around Cusco and I was able to reinforce all my prejudices against group guided tours.
The tour included the Cathedral, the Temple of the Sun (which we had already visited), and three Inca sites near Cusco with lovely names: Sacsayhuaman, Q'enqo and Tambomacay. So we just had to put up with the first two in order to see the three we really wanted to visit.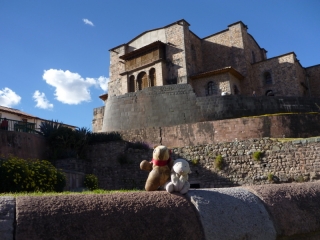 Our guide was Adriel, an indigenous guide of the "jokes for the tourists" variety. By no means the worst of that type that we've met, nevertheless picking the interesting information out of the banter was like picking useful bits of meat out of a grilled piranha. "Our language is hard to pronounce. This temple is called Sac-sai-oo-a-man but by tomorrow you will all call it sexy-woman!"
We began with our guide telling us to please all stay together, and please don't stop and buy things from street vendors or have your photo taken with the baby-goat women, otherwise the whole tour will get held up. At exactly the same time that he was explaining this an American woman in our group was gushing over an awww-so-sweeeet baby goat being cradled by a colourful local woman. Naturally the baby goat is dumped in her arms, the obedient hubby takes photos, and then he is made to fish out his wallet by the colourful local while the rest of our group disappears off down the road.
With apologies for reinforcing stereotypes, we also had a Japanese chap who delighted in buying crap off of the vendors that plague tourists in the streets of Cusco and at the archaeological sites. Seriously, I saw him buy four pieces of crap and have no idea how many more he managed. I wanted to shake him. Buy crap from people who shove it in your face, idiot, and they'll keep shoving it in people's faces with ever more persistence. Of course, it also slowed us all down while he concluded his purchases.
He and his companions had also dressed completely inappropriately for exploring high Andean ruins, in T-shirts and shorts. They looked frozen. Adriel had a few jokes about that! So at the first site outside of town that we visited they all stopped to buy cheap faux-alpaca jumpers, blankets and scarves from the delighted vendors who scarcely had to be pushy at all.
By 4:30pm we were only at Sacsayhuaman (now, how do you say it?) and dusk was an hour away. We spent thirty minutes there, then only fifteen minutes at Tambomacay, and finally a cursory ten minute run through Q'enqo. I didn't learn much. Didn't really see much either. Oh, but then a surprise! Adriel is going to help us learn about how to avoid buying cheap, fake alpaca garments from vendors (too late, Mr Nippon). Yes that's right… he takes us to an alpaca factory where a nice lady explains how to spot fakes and then we're left for thirty minutes to shop. Or in my case, hang around waiting.
And as we set sail back to Cusco after dark, a woman hopped on the bus and spent the journey trying to flog us audio-visual DVDs about Peru and the Incas.
Only ten minutes at one of the three archaeological sites I specifically went on this tour to visit, and thirty minutes at a f**king alpaca shop. And let's just review the itinerary the agency quoted for this tour: Cathedral, Temple of the Sun, Sacsayhuaman (say it with me), Tambomacay, Q'enqo. Hang on, where the f**k is "Alpaca Factory" in that list? Oh, it's not there. So lemme see, for five hours of my time I got to spend a total of one hour at the sites I wanted to see and learned next to f**k all that I didn't already know from our chirpy local guide. All I got out of the tour was a cheap laugh at the expense of some fellow tourists.
Love group tours.