13th September 2012
I can add Utah to the list of states we visited on this trip. Today's long drive north-west looked boring, so we made it longer by detouring further west on smaller roads. This proved to be a good choice as we rolled through some stunning Rockies landscapes. On the other hand we didn't roll into our hotel until almost 9pm after a couple of fraught hours driving through an endless dusk with no human habitation in sight and mule deer wandering into the road around every bend.
My brother was driving, so I didn't mind.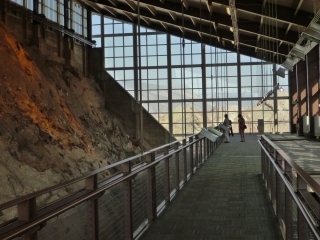 The nominal destination on our detour, and our only stop except for lunch, was Dinosaur National Monument in Utah. Supposedly you can see dinosaur bones in situ, still embedded in the rock. Unhappily we arrived just after the last shuttle-bus set off for the quarry where the deposit lies. Our only option was a sharp uphill march for fifteen minutes in the blazing sunshine to perhaps get a quick ten minute look. I suggested we not bother, but was overruled. You see, I believe I had set my expectations appropriately. I was expecting perhaps a few white arrows painted on a rock face to help you discern, with a squint, some dark knobbles where the bones might be emerging from the shale. Right? Wrong.
Inside a protective hangar in the quarry is a hundred foot long rock face absolutely choked with huge dinosaur bones; thighs, spines, ribs, skulls, the lot. I was gob-smacked and had to ask the attendant ranger just to confirm this wasn't a reconstruction. It's not. It's ridiculously impressive.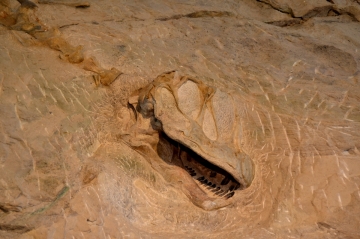 Apparently after discovering this deposit the palaeontologists spent years digging out fossil after brilliant fossil, cheerfully populating all the great museums of the world with most of the large and nearly complete dinosaurs you'll ever see. Eventually they'd found enough specimens of all the different species present that it started to turn from a scientific enquiry into a merely commercial excavation. At this point some bright spark had the marvellous inspiration to stop the digging and whack a building on top of the main deposit, preserving for posterity the most astonishing congregation of dinosaur bones ever discovered. Magic.
If this sounds a bit too lyrical, some context: my degree at Uni was geology and I've always rather loved dinosaurs. ROOOOAR!