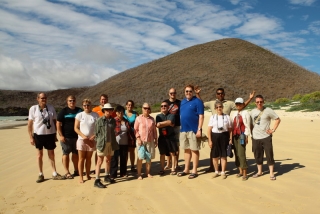 17th July 2011
…must come to an end.
And our Galapagos cruise was definitely a good thing, perhaps the highlight of our time in South America. Perhaps not perhaps, perhaps definitely. Yes, definitely definitely the highlight.
The last morning was bound to be anticlimactic, but the Interpretation Centre on San Cristobal really made sure of that. I've never been in a museum with less content, just a series of information boards. They could have put them all into a ten page booklet and just let us have a copy to read on the plane. San Cristobal itself is a dull town with a few dull souvenir shops and cafes. Apparently the government wants to get tourists to spend more time (read: money) in the Galapagos town in order to generate more income for local people. It's a fine aspiration, but they'll have to invest some time (and money) first in helping the local people understand what tourists would like to spend their time (and money) on.
Gradually we shed our crew of fellow tourists. At San Cristobal dock four went back to the boat for the rest of their 10 day itinerary and Andreas went off to his diving boat. At Quito airport three got taxis to head for different hotels. So only six of us remained to be ferried back to Hotel Quito and a hot bath.
Well, rather than end on a downbeat, here's a bunch of little video clips of wildlife from the Galapagos – hope they come across even half as well as we experienced!
Thanks to Andreas for the team photo at the top of this post!