7th May 2011
What should you do if you're driving at 100kph along a dirt road into the sunset in your little red rental Hyundai and you suddenly come upon a herd of emus crossing the road?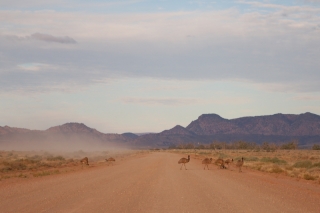 What you should not do is slam on the brakes, fishtail out of control on the loose gravel, release the brakes in a panic to straighten up and then drift serenely past at 70kph with phlegmatic emus staring at you on either side. It's actually a trick question. The answer is that you shouldn't be going at 100kph on a dirt road into the sunset, stupid. Stupid, stupid, stupid.
I'm glad the emus are smarter than me and just stayed put on either side. Animals have a disturbing habit of wanting to band together when danger (i.e. cars) threaten which is why they so often race across the road at the last moment. Back in Tasmania we were spotlighting one night, the car going scarcely 15kph, when some startled pademelons scattered in front of us. Then there was a heavy BONK on the side of the car. A pademelon had hit us. Just to be absolutely clear, we did not hit him, he ran into us! We stopped and looked back. He shook his head, and then ran off after his mates.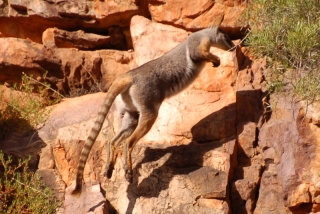 These yellow-footed rock-wallabies are much more agile than pademelons. We saw some more today, in the Brachina Gorge, and had some astonishing views of them leaping like kangaroos – but not across grassy plains, these guys leap across rocky precipices like mad French parcourt artistes.
Rock-wallahs aside, these Flinders Ranges are the most archetypal Australian landscape we've found so far. Exactly what you expect the outback to look like. When the sun and the wispy clouds are doing their thing on the craggy red rocks at the end of the day it's quite amazing. We dithered a lot over whether it was a good idea to have two days of driving (up and back) just for one day in the Flinders, but we chose right.