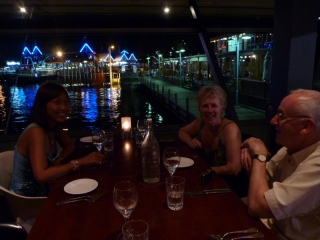 24th February 2011
I've always thought Fremantle has a cool name. It's a cool town too. There's a good mixture of shops, restaurants, pubs and cafes in a compact centre with plenty of attractive old buildings. If you ignore the 37 degree daytime temperature it could almost be an English market town. We had a wander around, we visited the tourist info, we shopped for some bits of clothes, we had coffee and cake. We were very lucky to find a two bedroom hotel apartment, because cyclone Carlos has driven all the miners and their families out of the wild north and their companies have put them all up in Perth and Fremantle.
Apart from the dazzling heat and the suntanned locals, one of the notable differences from England is the parrots. We've seen a half-dozen species over the last week, and all of them in an urban setting; on the sea front at Denham, at dusk in Dongara, on the High Street of Fremantle. There
have been rainbow-coloured lorikeets, almost totally black cockatoos and flocks of white corellas whose wings look pale green in evening light.
I've jumped right to the end of the day. We started in drowsy Dongara at sunrise and drove two hours south to visit Numberg NP and view the pinnacles. This otherworldly desert landscape of toothy sandstone protrusions was charged with atmosphere in the early morning, and we roamed it entirely alone. Mum startled a sleeping kangaroo, who hadn't been expecting anyone until the coach parties start rolling in later in the day. Back on the road it was thirty minutes to a rather greasy breakfast at the Lancelin roadhouse and then two more hours down the coast to Fremantle.