2nd November 2012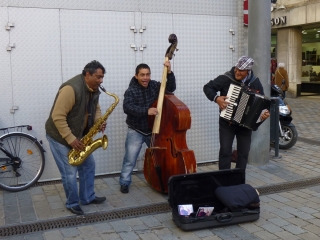 Remember that bottle of special Vendanges Tardive wine that got broke back in the Switzerland episode? Well, I've got another one. Yes, Alsace was a bit of a detour on our way back to Calais but where's the point of a completely unplanned holiday if you can't change your itinerary on a whim?
Anyway, it gave us an excuse to try a couple more Alsatian wines back in Eguisheim and to bring our total of wines tasted on this holiday to 100. If my recollections are correct, anyway, and excluding stuff drunk with meals which was almost always the unnamed 50cl pichet of local plonk in any case.
Now there's something I can applaud the French on. The house plonk in even the most basic restaurants and bars is usually decent and typically a ridiculous 5 euros for two glasses. In contrast pubs and simple restaurants in England serve up enormous glasses of the most acidic or tannic swill and demand £4+ per glass. The 250ml pub measure is pure stupidity. If four of you order a bottle of wine when dining out, do you find that you fill three glasses and then need to order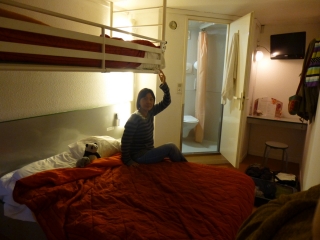 a second bottle for the fourth person? The 250ml "large glass of dry white" is the clearest possible sign of Britain's sad drinking culture. Quantity over quality, get pissed quick. Rant over.
Last overnight stop: Saint-Quentin, a town near the battlefields of the Somme, and another cheap little Premier Classe hotel. Dinner is an experiment with a French chain restaurant. The steak is a bit chewy, the Bearnaise sauce a bit odd, the steak tartare over-minced and unappealing. Pfft. The wine is okay.
Tomorrow morning is a two hour drive through the rain and onto the ferry.