2nd March 2011
Emu Point Hotel has one great feature to mark it out from the other motels we've stayed in so far; it comes with two complimentary sachets of real ground coffee and a cafetiere. Nice touch. But in all other regards it is identical to the Karri Forest Motel and the Ocean Drive Motel and… you get the picture. A clean but characterless room, a nice hot shower, a kitchenette with toaster, kettle and microwave.
Our pattern of searching is starting to feel very familiar too. We begin by checking a farmstay or a B&B in the country and find it's $125+. Then we ask for cabins at a caravan site and they're typically about $100. Next we turn to the backpacker place in town, but discover that they only have dorms or rooms with shared facilities. Finally we check motels and get a room for $80-$90.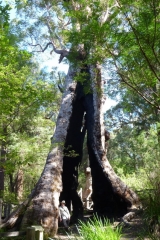 Yesterday was an exception: a comfy YHA place with an en-suite room and a big shared kitchen, called Tingle All Over. The name makes sense when you learn that this area is the only place in the world to see the magnificent tingle tree, a huge variety of eucalyptus. We went to see the largest specimen of all today, an incredibly decrepid old tree whose heart has been burned out by so many forest fires it seems amazing that the remaining parts of the trunk can hold up the enormous canopy. Nature is still a much better structural engineer than man. But to get back on topic: my waxing lyrical about self-catering to save budget was premature. You can't self-cater in a motel with a kettle and a toaster, and the self-catering cottages we've tried have all been $120+.
So we're going to be staying in $80 motels and looking for dinner for under $30, which gets you some decent pizzas, burgers or a chicken parmigiana. With lunch and brekky factored in, accommodation + food + petrol = our full daily budget.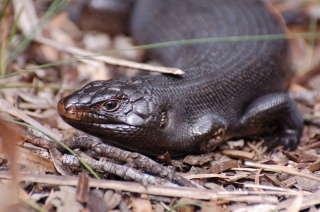 All these motel rooms are identically clean and well-equipped, you'd have to say they were decent value for money. So what's my gripe? We've spent less on accommodation various times in Asia and Africa and definitely got less for it. We've eaten for peanuts at much less salubrious places too. But at least we could vary it with some luxury lodgings and swanky meals at times. I'd like to be able to splash out occasionally on a B&B with some character, or a meal at one of Australia's classy restaurants. To do that we'd have to be able to spend
less
for a while in order to save up some budget, but these identically nice motels and the adequate local eateries seem to be about as cheap as we can go without crossing our "minimum comfort lines", namely that we don't want to camp and we don't want to share bathrooms with teenage backpackers.
This problem is still under consideration. And I suppose as problems go, it needs to be put in perspective against the fires, floods, cyclones and earthquakes that have been mangling Australasia this year!