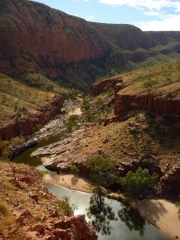 16th May 2011
Thus concludes our loop around the Red Centre of Australia, back in Alice Springs in a comfortable little apartment with a Thai takeaway to take away the taste of all the grimly cooked meat-plus-stuff of the last four evenings.
Today we visited various beauty spots along the West MacDonnell Range, a rugged ridge of mountains that runs west from Alice Springs up to Glen Helen where we stayed last night. Places like Glen Helen Gorge, Ormiston Gorge, Serpentine Gorge and Simpson's Gap are all points where a gap in the mountain chain allows a creek or river to run through, usually with a permanent waterhole where the actual gap is even if the river itself is ordinarily dry as a bone. They were all very beautiful, although nigh impossible to capture on camera because of cloud cover. One thing I've learned during our travels is that landscape photographs on cloudy days are seldom a success. It's not that it is too dark, just the contrary: the sky appears as an over-bright white band instead of a nice blue, and without the shadows of sunlight any crags and creases in the landscape are lost details.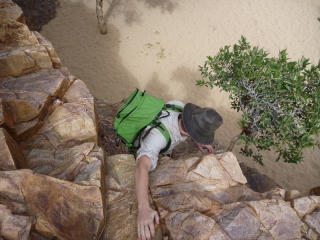 So I'll just have to keep today's various walks in my memory instead. Most memorably being the walk at Ormiston Gorge, where the normal route is currently flooded and the signs said "warning: you will have to swim the last part of this hike". We ignored the signs, but instead of swimming we went for some perilous rock climbing instead. I'm here and typing, so we must have survived.
Although these permanent waterholes are apparently always verdant, our surprise was how vibrant and green the whole of the supposedly red centre has been. Remember the mouse plague I mentioned? Well, that was down to absolutely loads of rain that fell this summer after nine years of drought. Parts of the desert here look like lush pastureland, other parts like the heather-cloaked hills of Scotland. The mouse plague was at its best in Glen Helen where we saw at least half a dozen in the restaurant, utterly fearless too.