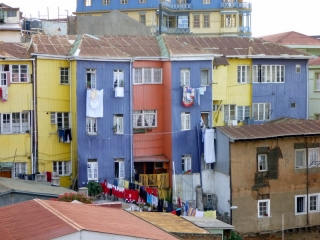 6th July 2011
So we've spent three days kicking around Valparaiso, not really doing very much, mainly recovering our depleted energies and enjoying the relaxation that staying in the same place for four nights brings.
We made a mistake in choosing our B&B. It's a friendly place and the room is warm (hurrah) but we're a long way from the middle of town. That makes a difference with a city break: you cannot simply wander out for a stroll and a coffee, wander back for an hour, then wander out to lunch and a museum, wander back to relax and freshen up, then wander out for dinner. You have to decide you're "going into town" and then wait for a bus to take you for the twenty minute ride. Once you've had your fill of seeing sights and hopping cafes, you take a bus back and then it feels like a hassle to do so all over again for dinner.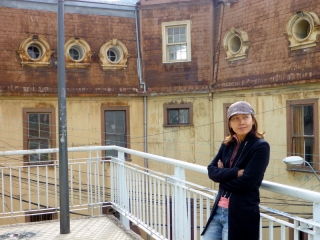 C'est la vie. We came, we saw a bit, we relaxed. We even had a good meal in Chile; dinner on our last night at the stylish Pasta e Vino up on Cerro Concepcion. Maureen's duck pasta was excellent, our starters were tasty, and the good bottle of Carmenere went down very well indeed. I can't tell you too much more about Valparaiso. It's a place with some style, a scattering of quirky shops and interesting cafes and restaurants that have taken some effort to match the tatty-chic of the patchwork house-covered hills. For South America, it's a pretty fair city.
It's fun to contrast the introduction to Valpa from the Lonely Planet and the Rough Guide (which we found a copy of at our B&B). "The most unusual city in all of Latin America" and "Probably the most interesting city in Chile" – which is which? We've had to use both brands of guidebook on our year, as many countries simply don't stock the Rough Guide at all. I much prefer the Rough Guides, though. They don't hyperbolise and build your expectations of a place so that the reality is bound to be a let-down. My guidebook doesn't need to sell me a destination – I've already decided to go there. The Rough Guide also gives you a lot more detail for your money. They use thinner paper.