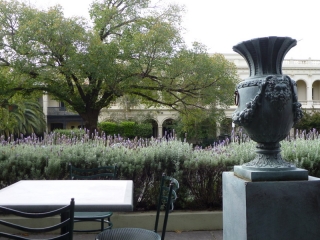 25th April 2011
Is it just me that does this kind of thing, or does it happen to everyone (except Maureen)?
I went to fetch our rental car this morning, while she finished packing and caught up with email. I thought it was a fifteen minute walk to the address but it turned out to be a long twenty minutes. Which was a shame because when I stepped up to the rental desk I realised I'd left my driver's license at the hotel. I remembered rummaging in my bag for my "International" Drivers License (note the quotemarks, they will be relevant later), then thinking "oh, maybe I should also take my spare credit card in case the other one doesn't work" and then taking the credit card and forgetting the license. Please, tell me everyone is that witless sometimes.
Not about to waste another 25 minutes and feeling an urge to punish myself for stupidity, I jogged back to the hotel which was quicker but painful. Maureen said "I told you to just take your bag" and I agreed, grabbed the license and headed back out the door. More jogging, I got back to Hertz bright red and breathless 15 minutes later. Dough-faced Hertz employee: Do you have your UK Drivers License? Only we can't take an International Drivers License on its own.
I went pretty much ballistic at this point, given that the International one has worked just fine in every country we've hired a car and even with bloody Hertz themselves in bloody Tasmania! They're a licensee, they have different rules (explained dough-face). Fine. I stormed out, gave in and grabbed an Iraqi taxi driver and hurtled back to the hotel again. You can bet Maureen was delighted when I came back into the room still lacking car keys. "I told you to just take your bag."
Taxi Iraqi took me back to Hertz and I finally got the car. I still didn't take my bag with me.
The rest of the day has gradually eased my stress levels, with some mooching and a nice lunch in the boho Fitzroy district of Melbourne and then a relaxing drive down the first part of the Great Ocean Road to Lorne. This is long weekend Mecca for Melbournites and the camp sites we passed looked full to bursting point. Luckily we hit the Tourist Info office five minutes before it closed and the chap found us a little self-catering cabin up in the hills. It's a brilliant place, a cosy wood cabin caught in a retro timewarp. We've got Creedence on the speakers and red wine in brightly coloured plastic tumblers, lit from above by a lampshade made from part of a milk churn.