15th May 2013
I'm surprised that today is our only overdone day. We've tried to cover a lot this week, probably too much (as usual), yet it has worked really well and we've been able to enjoy exploring every destination we've visited. The clearest sign, to me, that we've overdone it on past travels is when we drive past something pretty and decide not to turn around for a photo because there's not enough time. Not enough time for a photo? That's too busy.
Today we went into Ljubljana again, to see the market, then headed off on the eight hour drive back to Dubrovnik, to be broken by a visit to Plitvice Lakes, Croatia's greatest natural wonder and another UNESCO site. We also tried to cut off part of the motorway journey with a more direct country road. Mistake. Road atlases don't show every wiggle and I'm sure our short-cut ended up as long as the motorway route and twice as slow.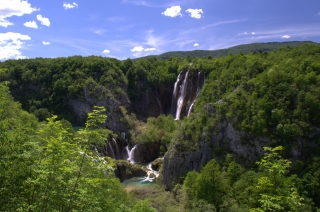 So at Plitvice we tromped downhill amongst crowds of tour parties to see the big waterfall accessible from Entrance 1, then rather than taking a leisurely walk along the lakes to join the boat-ride to the other waterfalls at Entrance 2 we had to tromp back uphill to jump in the car and drive quickly to Entrance 2. We really didn't have time for more than a couple of photos of the rather splendid main waterfall, and then at Entrance 2 we discovered that (a) it's a 15 minute march down to the lakes here and (b) there aren't any waterfalls worthy of note visible from the shore anyway. Dispirited, we tromped 15 minutes back and hurtled on towards Dubrovnik.
This time it was 10:30 before we had dinner, so it's handy that the restaurants in Dubrovnik's old town stay open so late. Rather duff Bosnian food, but it filled a hole.