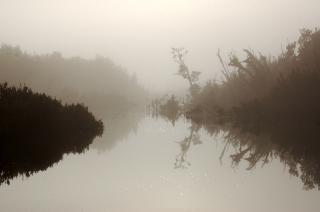 1st June 2011
Did I mention that the flooded river valley at Chepu is beautiful? It really is. Honestly, it's so beautiful it makes you want to cry. Even living here you couldn't get used to it, I swear.
And we also saw the Southern River Otter, woo-hoo! We went out again in the boat with Jorge, and this time we picked up an otter after an hour-and-a-half searching. We followed it for a while before making one of those daft decisions – to go on and try to look further up river for another otter. Of course we didn't find one. Jorge headed the boat for home and then of course once we were within sight of our cabin I spotted a second otter. He went about his business scarcely concerned with the boat puttering along beside him, a wonderful encounter.
And that's how it is with wildlife watching. Two mornings of nothing, then two sightings on one morning and one of them right outside your lodgings.
I really could have just stayed at Chepu for a few more days, but of course there's a lot more of Chiloe island to see. We said farewell in the afternoon and drove down to Castro, the main town of the island. It has an amiable backwater feel to it, not much going on, but we found a very cosy and modern hostel in one of the stilted harbour houses that appear on any tourist literature for Chiloe. We ended the day in a smoky cafe in Castro, devouring a plate of local smoked salmon and a spicy pizza, toasting our success in seeing both the local otter species. That's 11 out of 13 otter species we've seen around the world, only the Congo Clawless and Cape Clawless eluding us.