22 December 2015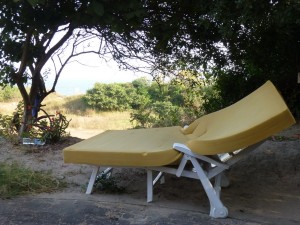 There is a vast difference between roughing it in places like Khao Sok or Amed, and roughing it here at Tanji Bird Reserve. The difference is friendly, useful service. This guy who is looking after us here at Tanji Bird Reserve Eco Lodge – name of Lamin – is a complete idiot. It's obvious his boss (an imperious lady, there briefly on our arrival then never seen again) has no faith in him. He's also a slightly creepy idiot, probably without intending it, who talks to you as though you are a child in need of entertainment. And just when you start to think "oh well, he's just friendly" his phone rings or someone asks him something and he just blanks you, mid-conversation. No "excuse me a moment" or "sorry, must get this". He just forgets you exist without a word. Jerk.
We're in The Gambia, for a short week of winter sun and mammal watching and this is our first stop off the plane. The taxi was such a heap of clanking junk I'm amazed it got us here. Couldn't tell what speed we were doing, as none of the dials on the dashboard worked. The Gambia is the smallest country in Africa, it is entirely surrounded by Senegal, and is unique in having "The" as part of its name.
To be fair, it's not just Lamin. But rather than ramble on, here's a quick list of why Tanji Bird Reserve Eco Lodge is crap:
The shower is a pathetic dribble
And it's cold
Toilet seat is cracked
You can see through the door of every hut with the light on (Smoked glass & no curtain – who thought that was a clever idea?)
They add charges for ridiculous stuff – e.g. to use the safe, which is already in our room
Yeah, and even a second coffee sachet at breakfast is extra
Mosquito net has holes
Everyone is useless – e.g. they took us to our hut but forgot to bring the key
Lamin is over friendly in a weird way
Everything is falling apart – e.g. the chairs, the tables
Sun loungers are covered with huge pieces of plain foam – junk yard chic?
The bed was very hard and uncomfortable
They stiffed us on the exchange rate for our bill (proper stiffed, like 30% over)
We did at least see our first Gambian mammal – the green monkey. It's not a very vivid green, in fact it's more sandy-brown with a black face, but we had a good view of the whole troop playing in the dust.