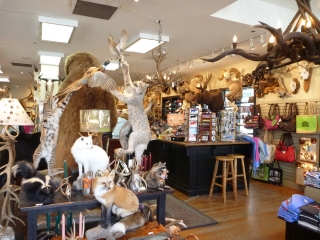 14th September 2012
Today we took ourselves north from the nothing-much town of Rock Springs to Grand Teton NP via the gateway town of Jackson. What was once apparently one of the toughest towns in the west has been turned into a bustling tourist spot for well-heeled visitors. I have never seen so many art galleries dedicated to wildlife in all my days.
One shop was particularly direct in selling the wilderness, being crammed to the rafters with stuffed animals. Which is of course sonething that's easy to forget here if you dive straight into the National Parks and never emerge. Hunting in America is a very popular sport. All of these animals that are protected and nurtured in the National Parks are fair game once they stray a single hoof or claw beyond the borders. Wolves, otters, bears, elk, moose, bang, bang, bang.
So, what is Grand Teton NP anyway? It's a small National Park in Wyoming hanging off the bottom of the much more famous Yellowstone. Its raison d'etre is the extremely photogenic Grand Teton mountain range, a compact group of jagged peaks that look particularly spectacular because they rear up sheer and sudden out of a broad, flat plain. Apparently a few years back when Colorado wanted to market Rocky Mountain holidays they used photos of the Grand Teton, something that Wyoming won't let them forget. The roads and lodgings in the park are all found on the plains, focused around the couple of larger lakes. The mountains themselves are largely inaccessible except to back-country hikers and, at the southern end, skiers in winter. There's a good amount of wildlife in the park, and in particular it forms the very southernmost range of a couple of iconic species; the grizzly bear and the grey wolf.
We tried a bit of wildlife-spotting in the late afternoon up to dusk but had no luck. Our lodgings at Signal Mountain Lodge are fairly rudimentary cabins, comfy enough though. The food in the restaurant is similar; rudimentary but comfy enough.