7th December 2010
Looong transit day today. The train leaves Bangkok's Hualamphong station (which I can't stop thinking of as hump-along station) at 13:00 and doesn't reach Sungai-Kolok in the far south until 10:45 the next day.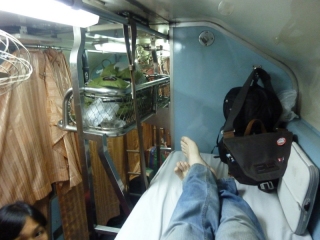 Our sleeper berth is of nifty and compact design, seats by day and bunk beds at night. The toilet facilities are a little more basic. Memo to self: don't walk along a railway track in Thailand, especially in the dark. I seem to have retained a childish delight for "making camp" and so clambering into the top bunk with all my stuff and pulling the little curtain across is great fun.
It's a bit less fun when the train goes over some seriously jiggly track at 4AM and wakes me up, after which I never really get back to sleep. For your future reference, the bottom bunk on a sleeper train (Maureen's of course, 'cos chivalry ain't dead) has the following better qualities: (1) it has the window, (2) the overhead lights don't shine over the curtain top, (3) there is more headroom, (4) and less lateral movement when the train sways. The train arrives 3 hours late, so it ends up being a 24 hour train ride. But I enjoyed it anyway – and we get to do it again in six days when we return to Bangkok.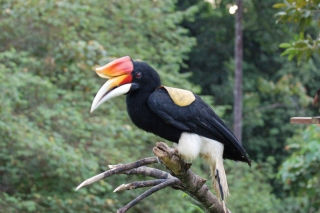 We've come to Hala Bala wildlife sanctuary on the southern border of Thailand to look for otters; the hairy-nosed and small-clawed varieties. Don't tell mum, but British government travel advice is to not travel into this province of Thailand (Narathiwat) due to the current troubles. However, we'll be six nights in a bungalow in a forest in the middle of nowhere and unlikely to be bothered – our guides for the trip, Jan and Tu, have also reassured us. I'll post this on our return to Bangkok, so there's no doubt we made it.