I think we can definitely recommend travelling light. Passing through airports or wandering around tourist towns with a backpack on my shoulders and a satchel at my side I felt much freer than either the ones lugging enormous suitcases on wheels or those hefting super-sized backpacks on their back and another almost as big on their front. And we're definitely taking the experience of this year into our shorter holidays and breaks in future – two modest backpacks are infinitely better on every occasion than the wheelie suitcases or hold-alls that we've used in the past.
For us these Osprey backpacks were perfect. The airflow system at the back means never getting sweaty, and the 55L his and 45L hers gave us just the right amount of space, along with my satchel and one other carry-on bag. The second carry-on began as a canvas beach bag, but ended up as a small backpack when we found that emptying Maureen's 45L to use as a day-bag was just too much hassle for every little day hike or day trip we took.
Our security wallet, meant to hang around the neck and live under my shirt, never got used. Cash for that day's use went into my pockets, the rest split between satchel and the luggage back at our hotel room. If we took our passports out they also lived in the most secure pocket of my many-pocketted satchel. The security wallet is especially stupid in tropical countries where you wear T-shirts and the wallet sits obviously underneath the T-shirt screaming 'hello, I'm a security wallet!'
I'd like to add a word about my satchel, because I think it's pretty perfect too. Aesthetically it looked equally at home in the wild or in the city. Also, hung across the body it would be almost impossible for someone to snatch off and it sits on my hip which means I'm more aware of it than I would be of something on my back. And when we were somewhere that seemed a little less secure, it's just as easy to have it in front of the hip.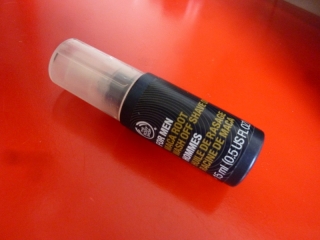 One bit of advice about 'travelling light' that is often mentioned is buying readily available things (like shampoo or suntan lotion) when you arrive at your exotic destination. That's tricky, as once you've got your shampoo you still need to have space to pack it. So it could be worth looking for small or compact versions at home before you get going, as there may be less choice overseas. Shaving oil is my favourite example. The Body Shop do a little 15ml bottle of shaving oil, very good stuff for a wet shave and it lasted four months. I've searched long and hard for shaving cream, foam, gel or oil elsewhere and I've never seen it in a compact form suitable for travelling.
Finally, check out the final packing list. The crossed-out items include a bunch of things we wouldn't take next time (there's definitely going to be a next time!), so I reckon that we can aim to travel even lighter than we have been.