23rd October 2012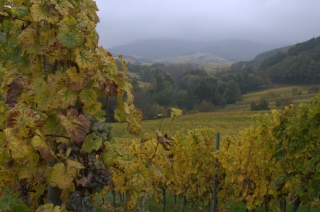 Well, I love Alsace. This is how wine tasting is done. You start in Obernai, near Strasbourg, and you meander along a winding road through vineyards of autumn gold, in the lee of the misty, wooded Vosges, passing through a series of medieval villages and towns of ever-increasing picturesqueness until you reach the splendid medieval town of Colmar for tea. Along the way you try stunning Rieslings, Pinot Gris, Sylvaners, Muscats and Gewürztraminers, filling the boot of the car again and silently thanking Tim and Vanessa for taking all your champagnes home with them. In fact you buy them a unique bottle of Grand Cru Sylvaner to say thanks.
For the record: Riquewihr is the most astonishingly postcard-esque of all these villages, but Eguisheim is firmly in second place and apparently much less visited. It was here that we tasted a bottle of 2007 Pinot Gris Grand Cru Vendanges Tardive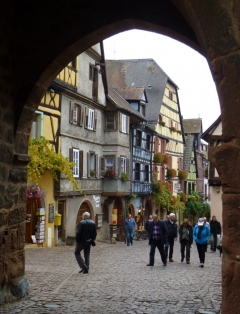 that was pure Christmas and bought it along with three Rieslings from
M. Bruno Sorg
. This winemaker had been recommended to us by
M. Jean-Marc Wantz
in Mittelburgheim, from whom we bought the Sylvaner. It's great when a recommendation leads you somewhere special, and Eguisheim is a truly lovely village.
Oh, and in Alsace there's oodles of tempting cafés, restaurants and tea salons in every village and town. Sucks to you, Champagne.
I said this was two different days, right?
So, we left Colmar at 6pm and headed into Switzerland. At the border they required £27 so we could drive on Swiss motorways for a couple of days. It was dark and after eight when we reached Bern, in the rain, and found the budget Ibis hotel fully booked. So was the Novotel. Following directions we tried another hotel. Full. Then got lost on the way to another. Getting twitchy and on our way to yet another hotel we happily stumbled on the right road and found the previous hotel. Which had one room left. A smoking room, reeking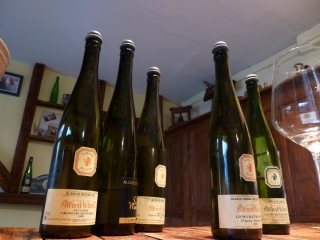 of old cigarettes, for the bargain price of £140. We took it. Unloaded the car. Freshened up quickly. Decided to take the car to a restaurant as it was raining.
Clonk/crunch.
When we unloaded the car, we didn't think to rearrange the wine boxes that we'd left in the boot. Well, we hadn't planned on driving around the corner to a restaurant until the rain came down. I blame tired. The car filled with the scent of wine. More specifically, the lovely Christmas smell of Grand Cru Vendages Tardive. In fact pretty much everything in the boot smelled of it.