4th February 2011
We're travelling with friends again.
Yesterday morning we got up hideously early to go jogging with Maureen's cousin in a park in Denpasar. Don't ask me why! Although it turned out that we were only going to be walking around the park, and indeed most of the other locals in their shorts and trainers were also only walking. The outfit perhaps more important to the sense of "getting fit" than the actual activity! Well, I wasn't going to get all kitted up at 6AM for jogging and then not jog, so I did a couple of laps of the park and impressed everyone with my unhealthy shade of red. I'm paying for it now though. My legs are dead and I look like a badly built robot when I have to go up and down steps.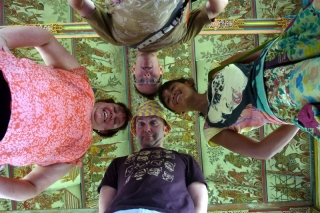 Around lunchtime we went and picked Tim and Vanessa up from the airport and took them back to grandma's house for lunch. It was good of them to come, given they were just off a 20+ hour plane journey. Anyway, by two we were on the road and before four we were all ensconced in our amiable Ubud guest house. It's in a quiet alley away from the bustle of the roads, though Tim's description of "urban jungle" is appropriate; guest houses pop out of the paddy fields and banana plantations all around us like mushrooms.
Today we spent mooching around Ubud, exploring shops, markets and temples then dodging into cafes to avoid rain showers. We managed to avoid getting soaked, and we managed to avoid spending money on all the lovely clothes, jewellery and homewares in the dozens of little shops lining the roads around here. How long we can hold out remains to be seen.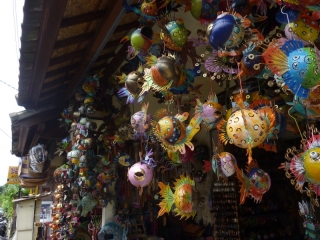 So why does Ubud feel familiar? Well, in part it feels a lot like Thamel in
Kathmandu
. Every shop and eatery is angled at western tourists, and the handful of roads in central Ubud are packed with premises all jostling shoulder to shoulder for our attention. But unlike Thamel it also feels a lot like being back home, as many of the shops are full of the kind of nifty designs we like and the better cafes hum with good coffee and tasty pastries. Finally, we have been ambling around with friends and that also makes it instantly feel more like home. It's good to have someone to chat with.