25th January 2011
Today we visited grandpa's grave, to lay some flowers. He passed away in 1988, so grandma has been alone for more than 20 years; it's no wonder she loves seeing her children and grandchildren so much.
Unfortunately memory is fleeting at grandma's age, and we have never been to Bali before, so finding the graveyard on the Bukit Peninsula and then finding the right grave was a trial in itself. We did, though. The cemetery is thick with grass and would be terrifically overgrown if it weren't that the graves are all sturdy monuments covered in ceramic tiles and so closely spaced that there's barely a gap for anything to grow between them.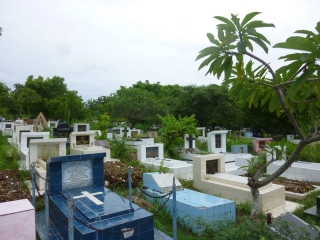 Do you know, I think this was the first time I've ever been in a graveyard with a purpose other than just to explore? It's a peaceful spot, despite the nearby road noise. Though my ability to empathise with grandma was broken by the most prolific cloud of mosquitoes I've ever seen, which rose up from the grass and hung around us until we left. Maureen's skin registers bites as soon as they happen, so I was able to count a total of 58 on her left arm alone. That's quite a tally for a ten minute visit.
As grandma scattered rose petals on the grave I happened to see a dog trot between gravestones across the cemetery. It was so pale and skeletally emaciated that it seemed like it must be the companion of one of those resting beneath. Ghostlike, it vanished among the stones.
It's 10PM now. Tonight's torrential rain has dwindled, leaving just the splattering noise of overflowing gutters outside while inside it is cooler but so humid that I feel I could wring out the clothes I'm wearing. I don't think I will ever be an ex-pat living in a tropical country. I can see the appeal in cheap living and no winter, but I'm a doer and an explorer and I think this sweltering weather would just defeat me.