22nd October 2012
Funny little differences between nations. Every guidebook and piece of travel health advice I've read says that after a bout of diarrhoea you should rehydrate yourself, and I always (well, except for this trip) pack a few sachets of rehydration salts just in case. Yet once I'd struggled to explain my need in a chemist in Épernay this morning the reason for the confused conversation became clear: "Haha, but that is only for babies! Adults do not need that!" Vive la différence. I got some rehydration salts for babies anyway. Felt much better.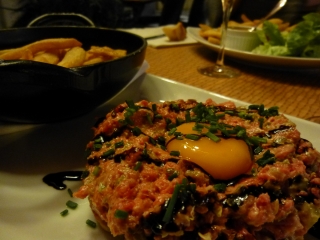 It has to be said, finding lunch in Champagne has been a bloody horrible chore. Anyone visiting any part of France not utterly immersed in tourism will already know that you can get lunch between 12 and 2, after which you will be plum out of luck. We knew that. But these villages in the champagne country are utterly devoid of any facilities (apart from, of course, champagne houses). If you're lucky there will be a solitary restaurant, but it will be closed. Saturday, Sunday, Monday, doesn't matter. I'm not exactly sure when they do open. All we wanted for lunch was a sandwich, a croque monsieur, something to keep us happy until dinner. Invariably the only place we could find open would be a restaurant and the lightest dish on the menu would be a steak with chips.
I'm definitely feeling a meat overload. Hard to believe I was complaining about the food in America a couple of weeks ago. If you're a vegetarian in Champagne you'd better get used to living on soup.
Today's lunch was, predictably, steak. But joy of joys! There was a tarte à la tomates for starter, and it was a fantastic tart of artichokes with slow-roasted tomatoes on top. Sheer magic. Why it couldn't have been a main course, only the French know.
After this we parted company with Tim and Vanessa, they to Calais, we to drive west across the Vosges mountains and into Alsace. We stopped in Nancy on the way, a handsome city that probably isn't on many tourist itineraries, but which has a grand square that would be the envy of almost any capital city. The food in Alsace is already better.