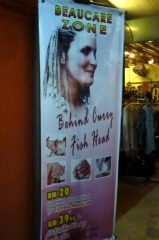 13th January 2011
Today we started late and had some memorable meals and a pleasant encounter.
Lazily leaving the guest house at twelve-ish we strolled to the Eastern & Oriental hotel for a posh luncheon. This colonial bastion and precursor to the Raffles of Singapore is certainly the place to be seen in Penang. There was a clear cultural divide at work, with all the local diners sensibly eating in the air-conditioned interior close to the buffet while all the western tourists were out on the veranda with sea views and just enough breeze to make it bearable. That's where we choose, of course. We were entertained to a fine display of American entitlementism; an older couple being so picky and grumpy about their lunch that there was almost always a waiter or waitress hovering at their table trying to understand a demand. But the staff were rewarded with smiles and thank-yous when they eventually got whatever they wanted, so that was okay.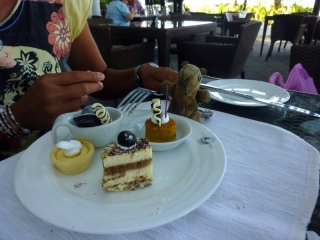 Our dinner was a contrast to lunch, eating nasi kandar at a recommended local place. Nasi kandar is rice with mutton or chicken, and a variety of spicy curry gravies poured over it. This makes for a tasty and filling meal, as long as you're in the mood for some hefty spiceburn. The restaurant was outside in a back-alley, with simple clinical aluminium tables and plastic stools. The food was rather slopped onto the plate, and slopping off the edges, and a jolly mangy rat was tucking into its own dinner – scrounged off the floor – just a few paces away. This all took something away from the pleasure of the food.
The encounter was between the meals. In the afternoon we took the shuddering old wreck all along the twisting north coast road to the Penang National Park. It was getting to be fun, judging when the car needed popping into neutral to stop it shaking to bits, and gunning it hard to make sure it got up a hill and round a bend. We arrived and got out of the car at about 3PM. The tropical heat was sudden and blasting, the heavy humidity quickly sucking the energy out of us. We decided to go for a walk regardless. The trail turned out to be a forty minute uphill climb, then forty downhill. But it's worth it when we walk out onto the beach and immediately spot the bobbing head of a smooth-coated otter in the breakers just offshore. We follow him fishing along the shore for five minutes, but then we make a wrong move and the otter spots the otter spotters. After staring at us for a minute, he swims away.