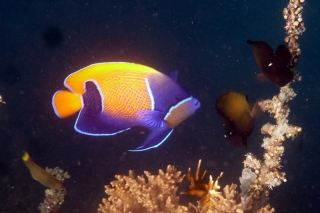 16th February 2011
Today we went to Pulau Menjangan, an island just off this north-west coast of Bali renowned for its diving and snorkelling. Because it's part of the Bali Barat National Park we needed to take a guide on our boat and he came snorkelling too. Mainly he swam with Tim and Vanessa, who both re-discovered a love of snorkelling after initial nerves on Flores. We did our usual thing of splashing slowly along with Maureen spotting the most interesting stuff and me chasing fish with my camera. Dreadful thing, the camera. Whatever setting you're in, it suspends your sense of wonder and simple appreciation and replaces it with avaricious pursuit of the best shot. I'm a self-aware victim but a victim nonetheless!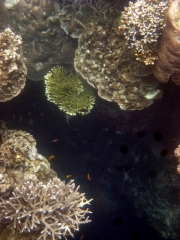 This is the first place we've snorkelled with a proper "wall", which is to say that there's about fifty metres of water out from the shore that never goes over two metres deep, then suddenly a vertical wall of coral plunging down into inky blue depths. I suppose swimming out into that bottomless blue might give you chance encounters with manta rays and other big fish, but there are thousands more things to see on the reef and besides it gives me the heebie-jeebies.
It was a lovely day of snorkelling, the water was crystal clear and the sun shone which lights up the coral and fish in even brighter colours. It also burned my back right through the sun block. In Australia I'm definitely going back to snorkelling in a T-shirt. We took a break half-way and wandered across the island to look at a temple, something not many other tourists seemed to do, and spotted a huge Timor deer munching on the discarded offerings.
There's a very cool thing happening at Permuteran, the place we're staying along the coast. They have sunk metal cages into the water offshore and attached a low voltage current. This is re-growing the destroyed reef here six times faster than it would naturally recover. We snorkelled there the other day too, and while not as stunning as Pulau Menjangan it was already a beautiful and extensive coral garden with thousands of colourful fish.