9th February 2011
I think there are three beauties in Bali.
The first is the sea and the shore, at least in places like Amed where the rampant spread of resorts hasn't made the scene fit only for sun-worship. Our last stop with Tim and Vanessa will be Permuteran, and I have all fingers and toes crossed that it will be more like Amed than Sanur.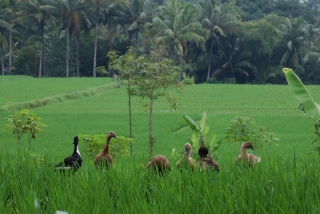 The second beauty is the rural interior, of rice paddies and groves of coconut or banana. Bali is every bit as agricultural as Kent, only the crops are different. But just like Kent, on a sunny day in the right place this human landscape is absolutely idyllic. Tim and I went for a walk out of Ubud today, while the ladies recuperated, and it was amazing how quickly we lost the town and found endless acres of young rice crops, acid green under a warm sun. It's a timeless landscape, dotted with a few farmers in conical straw hats and the occasional palm or banana grove. Ducks in flocks paddle about in the paddy fields.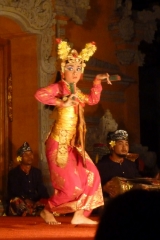 The third beauty I deem the colourful legong and barong dances, which we saw tonight. We saw a different troupe on our first night in Ubud, but either we were too tired to properly appreciate it or it was an inferior group. The exciting metallic rhythms of the gamelan orchestra provide a magical background for the intricate and otherworldly movements of the dancers. They dance with their fingers and their eyes, exaggerated so that your gaze is drawn to these even more than to the dancer's movement around the stage. The big blokes playing gods and giants are just as good to watch as the princesses and angels. It's all quite hard to describe, but well worth seeing. And this is from someone who normally shudders at the phrase "cultural show".