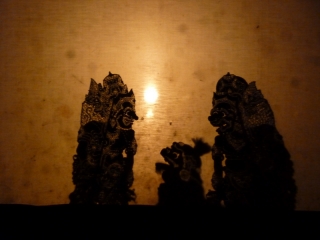 8th February 2011
One day of rest turned into two days of rest. The first was very needed, as our long driving day had left everyone quite tired, not only me. We wandered Ubud, we indulged in a very oily Balinese massage which was pleasant as an experience but doesn't leave the same lingering feeling of having been stretched and kneaded that our Thai massage did, and we ended the evening with a Wayang Kulit performance. This is the mad Indonesian shadow-puppet show which involves lots of wild ranting, clanging percussion and very silly battles between shadow puppets. This group have made it more accessible for visitors by including some puppets that speak English, allowing them to tell the story and crack some jokes; I think this is a great addition, as the whole point of Wayang Kulit is to be fun entertainment so being able to understand some of it is a good way to get closer to how an Indonesian audience might enjoy it.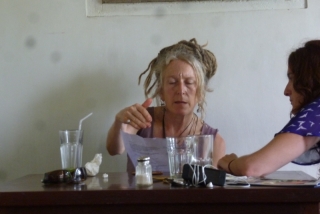 Unfortunately Maureen developed a tummy bug, so the next day was settled on being a day of rest too. That and the weather was still murky, making any expedition to the highlands a bit pointless. We did more gentle shopping with cafe stops between. Ubud is very good for that. Further out from the town centre there are workshops producing some wonderful furniture, and the prices are a fraction of what you'd expect. Of course a little research showed that the cost of shipping to the UK would actually be higher than the cost of the furniture, so not such a bargain unless you're keen to deck out your whole house Bali-style.
Update next morn: myself and Tim both had a bit of stomach ache yesterday as well, though nowhere near Maureen's extent. And this morning Vanessa has it, more like Maureen. Hope she's feeling better soon. If I were a betting man, I'd put money on it being the buffet lunch we had on our long driving day – we were all eating the same things, and of course buffets are notorious for being out in the open and re-heated several times over a day.