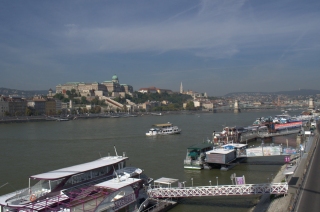 Just spending a few hours wandering around Budapest between arriving from the airport and enjoying a top-notch evening meal, I'm liking this city. It has a very obvious heart, and that is the gigantic artery of the River Danube (or Duna here in Hungary) over which many of the grandest buildings perch to show themselves off to greatest effect. It helps of course that we happened upon a really good place for lunch. That always helps. It's called Zona, it's only a few yards from our hotel on the Buda side of the river, and it would look quite at home in any of the snappier parts of London. My dish of wagyu beef neck was served with slices of raw porcini mushrooms. I didn't know they were okay raw… but I guess I'm going to trust the chef!
Trivia time. Budapest is two cities, yes? Buda on the west bank and Pest on the east. But all the way up into the 19th century the whole thing was called Pest-Buda. Hardly trips off the tongue. I wonder if it was an early marketing genius who thought of switching it around?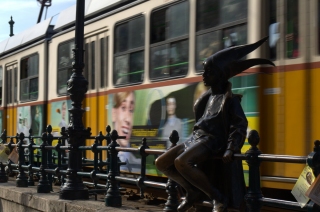 Budapest is pleasantly littered with statues, many in a traditional position on some kind of plinth in a focal point but many more apparently scattered at whim on pavements, steps or railings. I particularly liked one called the Little Princess, sitting up on metal railings beside the tram tracks, and according to our guidebook I'm in august company because she is a particular favourite of Prince Charles too.
Another thing Budapest has plenty of is reminders of its position on the fault lines of Europe. From the UK the west of Europe feels like the "important" part, but in reality places like Budapest and Vienna have very convincing claim to be pretty much the "centre" of Europe given how they have been rocked by all the major political motions of the 20th and earlier centuries. One touching monument were a series of small iron balls scattered over the walls of a government building that was the site of a massacre by the communists in the 1950's; each ball marking a bullet hole. In many places, even very central, glorious buildings of the 19th century have facades that are literally crumbling, unmaintained for decades through all the troubles. Empty spaces in the great castle complex of Buda show where bombed-out parts previously occupied by German soldiers had to be pulled down. Our guidebook has plenty of memorials, statues and eternal flames to draw our attention to, many relating to those who fought or suffered through the Communist occupation, or the Nazi occupation, or the Turkish occupation, or the Hapsburg occupation. The American and British embassies both have their entrances in streets gated off from public access by permanent metal security barriers.
So in some ways its a sobering city. But the beautiful September sunshine makes it hard to be too reflective, as does the enjoyable Hungarian wine and the buzz of a city that is now clearly fully modernised.