16th June 2011
Free day in Cusco, and with our legs still feeling the burn from Wayna Picchu we weren't going to be doing anything strenuous. In fact, we really had no plans at all. So we mooched.
To try and make the most out of our tourist tickets we stopped at three different museums – the Museo de Arte Populare, Museo de Historia Regionale and Museo de Arte Contemporaneo. You can probably work out the English translations. They ranged from lacklustre to dire, though none quite reached the depths of the Museo de Archaeologie that we also visited the other day while our tour group was visiting the Temple of the Sun. Honestly, a really sad contrast to the superb (and private) Museo de Arte Precolumbino that we visited on our first day.
This tourist ticket we have is another example of cheeky authorities fleecing tourists. You cannot just pay to go into the Museo de Arte Populare alone (nor would you want to), or just pay to visit Sacsayhuaman. No, you must either buy a general ticket which admits you to eight archaeological sites and four museums, or a partial ticket to a set of four sites. Given that the general ticket costs as much as five good meals, you'd better make damn sure you visit most of 'em to get your money's worth. That kind of ruthless gouging really pisses me off. I feel especially for the couple on our day tour to Ollantaytambo who had to buy the partial ticket (£18 each) with no intention of visiting any other ruins. At least we visited four ruins and four crap museums.
Let's switch topic. Peru is touted as having the best cuisine in South America, and perhaps that's true. Spending a week on the Cusco to Machu Picchu tourist trail doesn't really give me any qualification to comment, though we've sought out a couple of recommended fine dining places, a few lower-key cafes and restaurants, and a couple of guidebook recommendations. It's been a pretty mixed bag, and they certainly don't have the natural brilliance of Asian cuisines. What they do have here is really good produce.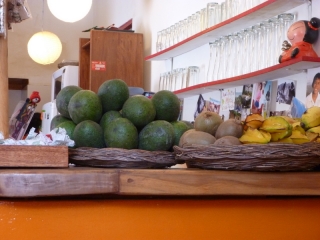 I've particularly enjoyed gobbling vast quantities of guacamole; they have fantastic fresh avocados here quite unlike the supermarket specimens from back home which remain rock-hard for a week then turn ripe for approximately fifteen minutes before turning to blackened mush.
And the very best thing in Peru has been the fresh fruit juice. In south-east Asia they would insist on blending it with an entire bucket of ice, but here the fruit is whizzed up thick enough to stand a straw in and tastes ripe and delicious whether it is papaya, pineapple, melon or maracuya (passionfruit to you and me).
Yum.