13th February 2015
More whacky weather. It was astonishingly clear this morning, so we deviated from our plan and drove back up to Pico do Arieiro, where we got magnificent vistas of the whole island in all directions, scarcely a cloud in the sky. Contrast with the soupy whiteness behind Maureen in the photo a couple of blogs ago. Of course by midday the peak was thick with cloud, but by then we were just catching distant glimpses of it while following our latest levada on another hike. That's one of the other constant surprises on a small island of contorted mountains and valleys: you'll round a corner on a walk, and find yourself looking up (or across, or down) at a distant view of where you were walking just yesterday. And yet if walked back and hopped in the car, it might still take almost an hour to drive back there. Such is the twistiness of Madeira's roads.


Honestly, though, they are at least roads: paved, seldom pot-holed and generally looked after. Nothing like driving in Indonesia or Chile. You just have to be reasonably confident as a driver, because there are at least (1) some very steep climbs and descents, though I've seen similar in Wales, (2) some scary drops off to either side, (3) some truly stupid parking on/around corners by the locals, but luckily there is very little traffic and nobody going faster than 30 mph so it generally seems to work out okay, (4) lots and lots of very twisty, turney, single-track mountain roads. My advice in the end would be: take your time, enjoy the vistas, don't pack in too much driving, and stick to public transport if you are a nervous driver!
Anyway, this last walk turned out to be a bad choice: long and monotonously beautiful, without even a destination to aim for.
Eh? What can I mean by monotonously beautiful? Well, it was beautiful like all levadas, with sunlight dappling through the trees onto the little canal and the path beside it. But it was pretty much exactly like this for two hours one way, and then two hours back again. Our guidebook suggests getting a bus from Funchal to the start, walking the whole levada in three and a bit hours, then getting a bus back to Funchal from the end. But we had a car and so that was no use to us, as no bus routes went from one end of the levada to the other, which left us no choice but to walk out and back again. Hey-ho, one bum walk and eight awesome ones.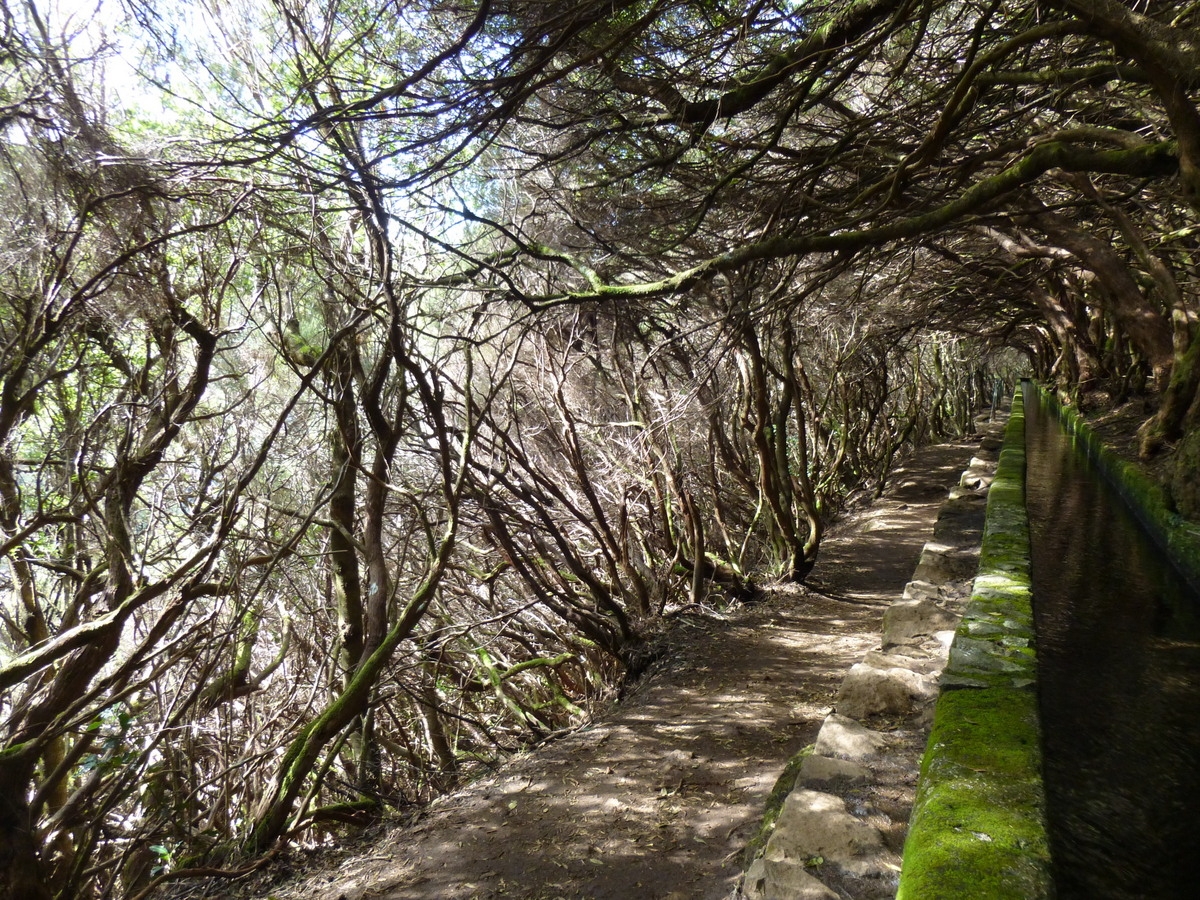 Oh, and we ended the day with a plate of delicious roast chestnuts at Curral de Freiras, a village in a sheltered valley up in the mountains (where legend has it a group of nuns settled to avoid the coastal depredations of pirates). I'm guessing that the warm and sheltered location with the lack of salty breezes makes it the one place on the island where chestnuts grow well? Anyway, it's famous for them. Rightly so. Oh… but for those of you expecting the "chestnut soup" to be vegetarian, be ready for glistening chunks of pig fat/meat in your bowl!
Well, actually, we truly ended the day at Cabo de Girao, an astonishing clifftop viewpoint on the south coast. The cliffs are just… just mind-bogglingly high and the sunset view back towards Funchal was awwwwww.