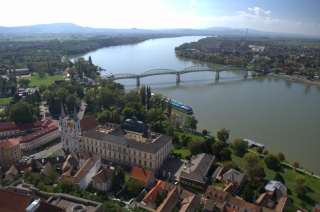 Boat trips. I'm fairly convinced that there aren't many that are truly worth doing. For example, there is a river boat that will take you four hours up the Danube to the superb Basilica in the small but historically significant town of Esztergom, and it travels along part of the river that is known as the Danube Bend and is accounted very lovely. Well, that's four hours of watching green hillsides pass by on either side with the occasional glimpse of nondescript riverside villages. Call it eight hours, if you're intending to come back. Luckily there's also a fast hydrofoil service that does the whole thing in 1.5 hours, so that's the option we took. I still spent most of it reading a book.
There are of course some amazing boat trips. The boat from Battambang across Tonle Sap in Cambodia was an astonishing day. The tour around Milford Sound's misty waters in New Zealand was also memorable. And it's equally true that if you fancy whiling away a few hours having a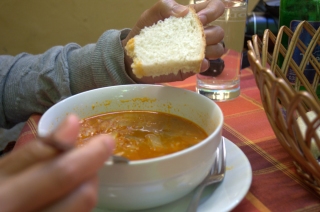 quiet read or a nap but you actually want to get somewhere then there's nothing better. But if you're a tourist, touring, trying to explore a country, then you can very easily devour a day staring at essentially the same thing on a boat trip. Plan and research with care.
Esztergom was our "get out of Budapest" day, so that we could claim to have seen at least a little something of Hungary beyond the capital. It's a pleasant town where we found some good lunch – perhaps the best goulash soup of the trip in a little restaurant at the foot of the "Cat Steps" down from the basilica. Later on there were very tasty cakes for tea in a grand cafe near the town square. The big basilica dominates the town, elevated high on a rock above the river. It's a huge building and the endless climb up 400 steps to the top of the cupola is breathtaking in two quite different ways. Plenty of interest back at ground level too, lavish within though looking strangely municipal from the outside, at least close up.
I don't think I can actually come up with any useful generalisations about Hungary from our one day trip, beyond "it seems a nice country" and "mmmm… cakes!" Our evening included a fairly dispiriting fine dining restaurant which reminded me of the general uselessness of asking your hotel reception for restaurant reservations. Might be a bit harsh, as it was Sunday and plenty were closed. I did splash out on a spoonful of "eszencia" – an exceptionally sweet nectar of Aszu that can be bottled for 200 years and is so sickly and expensive that the standard measure is a dessert spoonful. It was interesting, and too sweet.