24th January 2011
Bali is going to be a very two-sided place, I think.
Up until now I haven't seen anything to fall in love with, which apparently you're supposed to when you arrive on this pearl of Indonesia. I've seen towns that look much like those of Malaysia or Cambodia; ramshackle little businesses and lots of motorbikes, dogs and people. I've been to Sanur beach and seen the long tourist road looking like an upmarket version of Thamel with surf gear instead of mountain gear. The beach itself was some sand in front of the sea with lots of Balinese swimming or playing football. In other ways Bali seems to resemble an industrial estate in the home counties – lots and lots of places selling teak outdoors furniture, garden sculptures, mosaic tiles, architectural antiques, self-assemble wooden houses and outdoor jacuzzis.
We've also already had more hassle than the rest of South-East Asia put together. I may be slightly exaggerating, but I know that within a week I won't be. The worst case was a woman who intercepted us with a cry of "come see my shop" when we started looking into a small square of local shops, and then actually tagged along with us persistently asking "what you want?" while we looked through the shops. It's the kind of behaviour that needs a slap, but of course I'm not even going to speak harshly to her because she has no idea she's winding us up and even calls a cheerful "goodbye!" when we leave the square after only a minute, fed up of being pestered. Nice way to destroy business for not just yourself but for the other shop owners too. Gaaaah!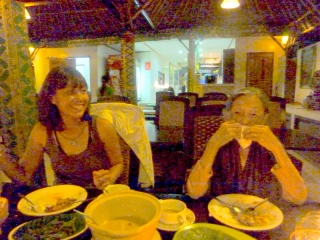 However, this evening we went for a meal at Jimbaran. Here there are a dozen warungs – local restaurants – running along the sea front. There was a fine, cloudy sunset out at sea and strolling along the beach we could see the lights of Kuta glittering to the north. All the warungs have tables that sprawl out of the indoor area and onto the sand. Their business end is around the back, facing the road; here are the grills billowing clouds of fragrant smoke, the piles of coconut husks to feed the fires, and the tanks full of prawns and crabs and oysters and fish on ice for you to choose your meal from. Everything is market price and they weigh it and tell you the price right there, then find out how you want it cooked. The seafood was delicious, and the atmosphere of the evening pleasant and balmy. Grandma enjoyed herself and we were able to flee just before the wandering minstrels reached our table to murder an 80's classic and wring a few embarrassed rupiahs out of us.
So yeah, I'm looking forward to more gems like this. The mining analogy is deliberate, as I think we'll also need to dig through some muck to find the glitter.