11th February 2015
Bored with breakfast now. Why, when the guidebook says "Madeirans like to start the day with a short cup of coffee and a pastry," does our hotel insist on bread, ham, cheese, eggs, fruit, carton juice and a big jug of insipid filter coffee? It's not them, really. There's an international standard of hotel breakfast fayre, and the damn filter coffee just hurts the worst because every cup of coffee in every tiny snack bar around Madeira has been delicious.
In fact, the snack bars will be one of my favourite memories of Madeira. Every village seems to have two or three, so it's easy to find one just after the end of a levada hike. Nothing is nicer after a (chilly!) hike in the hills than a delicious cup of coffee and a pastry – preferably a pastel de nata but frankly they're all good. It's the Madeiran equivalent of a cream tea.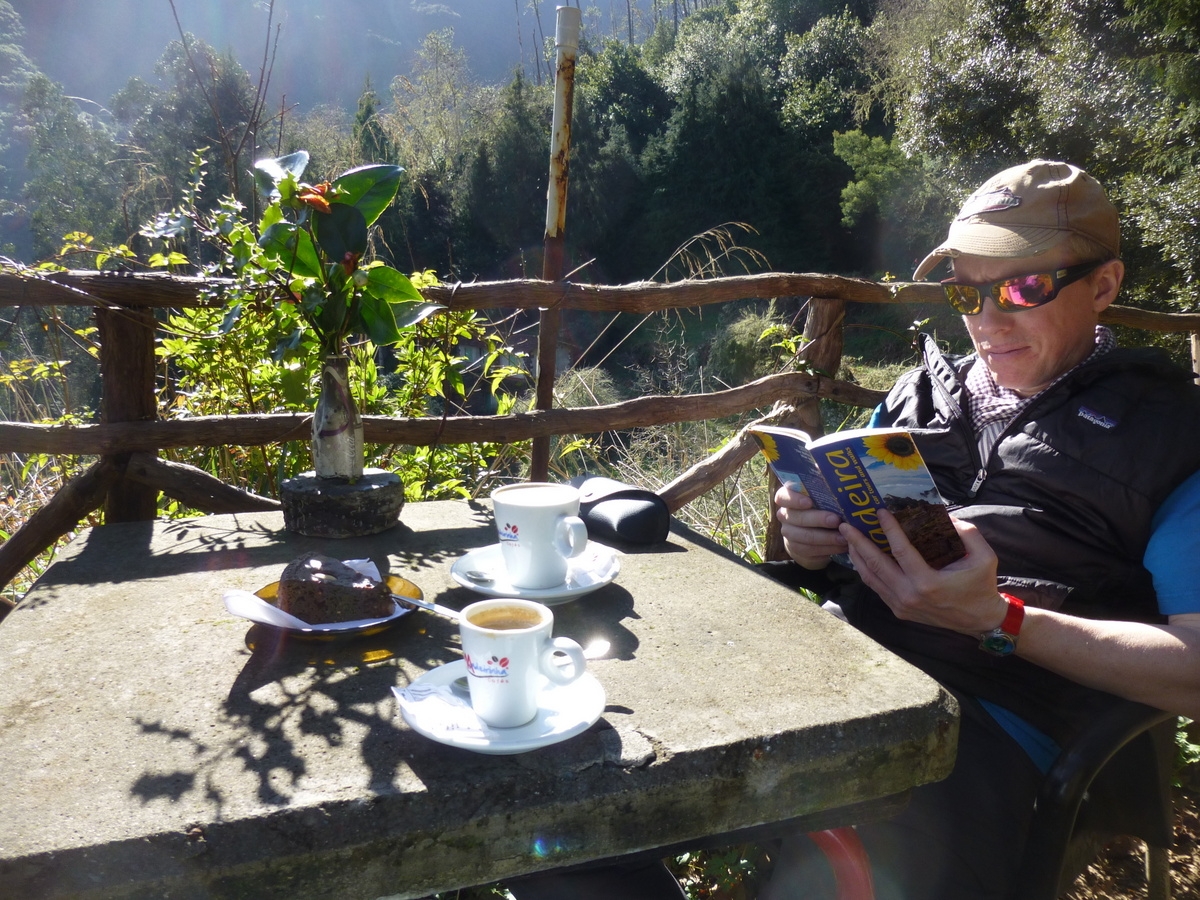 This is just what we enjoyed after our first hike of the day, a clifftop walk made slightly stressful by the slippery descent into a river valley at the start. Our second hike was a nearby levada, which ran through near-vertical farmland before curling up a valley to its source in the woods. These were lovely hikes, but we saved the best for last… and dare I say it, we're starting to get the hang of Madeira's weather?
Our first hike today was meant to be from Encumeada, a pass high in the mountains. When we got there, it was all low clouds and meh. So we decided to head on and see if the north coast was sunnier, thinking maybe the cloud would rise later. It was sunnier (see previous paragraph). And then on returning south across the island the clouds lifted as we went back up to the heights of Encumeada, and we had a splendid hike along the biggest levada (Levada do Norte) with agapanthus on all sides. The hike continued through a chilly tunnel that seemed to go on forever to come out in a high and hidden valley of moss-draped laurels called Fohladal. Phew! Long day, many hikes. Very good though. I really can't describe how beautiful Madeira's levada walks are. You'd better come and see. Just leave it a bit later than February though. Brrrrr.