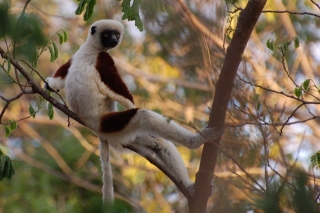 We saw the most awesome thing today. Snake-eating ants. Seriously. We saw a big deep hole with ants going in and out. A snake goes into the hole looking for food, but the ants blind it then kill it and devour it! We saw snakeskin scattered around the hole like discarded candy wrappers. Also rat bones and feathers – ugh.
But anyway, we're in Madagascar, in our first camp and it's a very different experience. On the one hand, we have our own chef! Brought in from a nearby city 'cos apparently the camp restaurant is rubbish, and his cooking is really good. On the other hand, we have no hot water. Even though it's 30C in the afternoon, cold showers are not fun. The lemur at the top of this post looks kinda relaxed, yeah? Lucky him. We're up for breakfast and out on a morning walk by 7AM for 4+ hours, then an hour's break, then lunch, then an hour's break, then an afternoon walk at 3PM for 2+ hours, hour break, night walk for 2 hours, dinner, collapse.

Madagascar itself is a whole new world. The people look sometimes African, sometimes Asian, and there are rice paddies among countryside that looks a lot like South Africa. It is clearly a poor country, but there doesn't seem such a stark divide in society as we saw in India – no slums, just a gradation from proper houses in the city to mud huts in the country.

There's so many odd new things to gawp at. Just like in Chelsea, the ladies often put on a skin-smoothing mudpack… but in Chelsea they tend to rinse it off before hitting the streets!
Oh yes, we've seen lemurs. Gallery to follow. Fuzzy-wuzzy pictures speak louder than fuzzy-wuzzy words.
Our guide is Guillaume, pronounced "giy", a nice guy who went into tourism after working in gemstone trading, an odd coincidence with Carlos our guide in Rio a couple of years back who did the same. Our local guide here is Jacqui; we have Guillaume as a guide to cover our whole trip, but need guides who know the wildlife at each of the three places we stop.
The tips mount up! This isn't really part of our year of independent travel – we're not brave enough to visit a country like Madagascar for the first time on our own, especially as there's a political crisis on and this has led to a massive upsurge in crime. So these two weeks are very deliberately apart from our £100 a day budget for the rest of the twelve months.
Update! We've seen man-eating ants too. Last night there was a line of tiny ants running down the wall to my razor. I must confess I've been using the same razor for over a month, and was thinking it's about time to change. By morning every last bit of stubble and dry skin had been cleaned from the razor – it was brand new! I hope they don't find our bed.