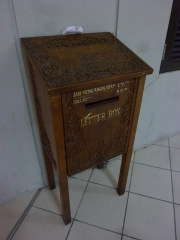 19th February 2011
Today we said farewell to Bali, which has given us a month of magical snorkelling, spicy food, lovely accommodations and heinous traffic. The drive back over the mountains in the early morning light was exceptional, the rolling rural landscape looking every bit as idyllic as an autumn morn in the Shropshire Hills. My heart was turned to home even as I enjoyed the exotic views, and not a tourist or tour bus to be seen.
We also said farewell to south-east Asia, as we flew on to Australia and New Zealand; completely different landscapes, climates and of course people. We'd spent almost three months getting a small sample of Thailand, Cambodia, Malaysia, Singapore and Indonesia. It's been all about great food, very different cultures, all the pros and cons of steamy tropical jungles and sandy sun-soaked islands and not having to worry too hard about out-spending our budget.
Finally we said farewell to Tim and Vanessa, winging their own way back to winter-wrapped England tomorrow. They've been superb company for two weeks, as we knew they would. Our interests intersect pretty well and only vary in degree; we're only dabblers in the cultured world of music and dance while they prefer to paddle only occasionally in the natural wilderness. We all love travelling, seeing exotic places and sampling wonderful cuisine. Thanks for travelling with us! See you both in five or so months.