We have no festive photos to put up here, there's nothing remotely Christmassy happening in Cambodia except for a few pretty restaurant touts dressed up in Santa outfits in the hope of drawing some more customers. And we're certainly not exchanging presents – how on earth would we pack them?!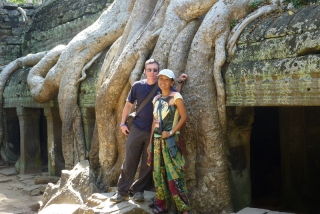 So it's Christmas only in our thoughts, and we've been thinking about everyone back home and everyone we've met along the, and wondering how you're all celebrating. We've booked a nice restaurant for an evening meal, and we're having a relaxing day with maybe some swimming and maybe a stroll around the market.
It'll be five months on Boxing Day, almost half way. We've travelled on planes, bamboo trains, the roof of an express bus, squished into songtheows, taxis, many flavours of tuk-tuk, an elephant, the back of motorbikes, bamboo rafts through caves, shoddy old 4WDs, bicycles and foot. We've seen leopards, lions, lemurs, loris, langurs and four kinds of otter so far. We got frozen at 4,200m in Kyanjin Gumpa and on night safari in the Karoo, we melted in the sweltering heat of Bardia and the sticky human boiler of Hong Kong. We've stayed in a Nepalese home, South African game lodges, a Cambodian villa, Himalayan tea-houses, a Hong Kong cubby-hole and the sleeper train to Su-ngai Kolok.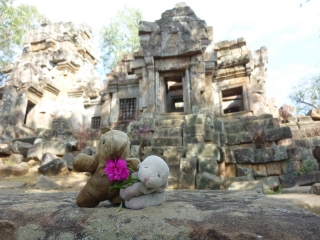 Thus far it's been a blast, with far more good days than bad. And of course even the bad days just become stories and laughs with the distance of time. I'm deliberately cynical or grumpy in the blog a lot, but only because (while researching) I got bored with reading blogs that gush and squee about their lovely, lovely experiences. We've very happy to have an audience.
I hope everyone is having a Merry Christmas and looking forward to a Happy New Year. We certainly are!

see more