31st October 2012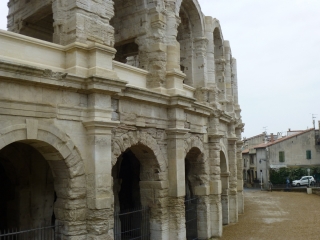 Arles is as far south as we go. It's raining. It was raining first thing in the morning when we wandered the town to admire the Roman amphitheatre and find breakfast. We enjoyed pastries in a colourful patisserie with a cheeky and cheerful patissier. Then we squelched back to the car.
We drove north. We drove straight past the Luberon valley, those supposedly lovely Luberon villages obviously being cursed as the downpour made any idea of exploring them today an exercise in grim obstinacy. There's only one thing worth doing in France when it's raining. We drove to Chateauneuf-du-Pape.
The wines in this famous little village are indeed superb, but they are perhaps understandably priced to match so we certainly weren't going to invest in a case or two! For lunch we had one of my favourite meals of the holiday (this says a lot), a stew of chicken with rice, sweetcorn and kidney beans. This fortified us ready for trying some sweet Beaumes-de-Venise at the eponymous village in the afternoon. A Scottish lady turned out to be the guardian of the grapes here, taking us through a few examples until we found one that really hit the spot; a bit more complex and tasty than the B-d-V usually served up in restaurants at home.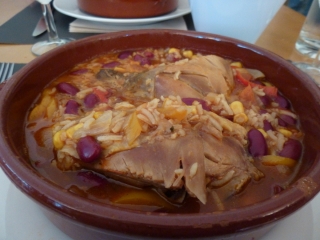 There's more. Gigondas is another village just down the road, renowned for red wines and only a little less so than Chateauneuf-du-Pape. We had been given a tip by M. Wantz
back in Alsace
and so made a beeline for one particular winery. Sure enough, rather than being the most obvious place in the middle of the village it was scarcely advertised and down a back-road.
While certainly not a universal rule, I do think I've noticed that in most wine areas the wine-makers located in the most obvious spots right in the middle of town or on the main approach road are likely to be either (a) not very good or (b) very good but very expensive.
With the car a few bottles of Gigondas heavier we took to the road north again and made it as far as Valence before flopping ourselves into yet another identikit Premiere Classe hotel. As I dragged the suitcase up the outside staircase in the rain to the tiny room with the broken lightswitch and cubicle bathroom I reflected that at least what we were saving on hotel rooms was being wisely invested in grape juice.