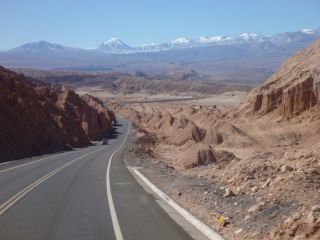 30th June 2011
The next day dawned and suddenly Calama was a busy town of shops and banks and cafes, everyone getting on with business as though yesterday's zombietown had never been. We managed to get on a bus which left at midday and in less than two hours we were in San Pedro de Atacama.
From descriptions in guidebooks and from other people I had been imagining a picture-postcard little desert pueblo stuffed with small hotels, funky cafes and boutiques. It turns out to be closer to what I should have imagined: a small and rather dusty town with non-descript lanes filled with tour agencies, hostels and cheap pizzerias. It's just a base, really, for enjoying tours into the wilderness of the Atacama desert. It's not a particularly interesting place to hang out.
Anyway, we spent the afternoon sorting out what we would do with our two days here. We booked a tour to El Tatio – the local must-see – for the day after tomorrow, picking a more expensive and recommended company in the hope of putting a dent into our dislike of group tours. And for tomorrow we booked a four-hour horse ride, just for us.
As an aside, lunch was insipid pasta and dinner was a couple of slightly ham-fisted meat and potato dishes in a rather nice setting. Both places came recommended.