28th July 2014
This is starting to become a standard weekend break practice – hiring a car for a day and going off to explore some of the country outside the capital city. The idea comes from my own disappointment at meeting people who say they've visited the UK a couple of times, and when I ask them where they've been they say "London" with the occasion addition of "…and Windsor" or "…and Stratford-on-Avon". I want to provoke them to ramble around the Cotswolds, see the Cornish coast, admire the wild places of Wales, visit Ludlow and Brighton and Bath and York.
So with the feeling that we'd had a good yomp over the main districts of central Stockholm, and not feeling the urge to escape the heat of another 30 degree day inside museums and galleries, we grabbed a hire car and drove off around Lake Malaren. There are boat trips which seem more relaxing and boat-ish on the face of it; to Birka or Mariefred or the Thousand Islands, but experience tells us that after the first half-hour of admiring the passing lake shore we'd stick our heads in our books for the other two hours and it would be even less interesting on the way back.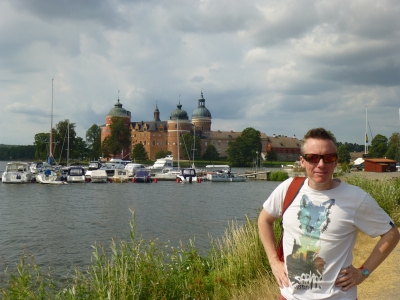 In fact we visited Mariefred first. It will be most remembered for a delicious salt licorice milkshake and an almost-as-good cardamom one. The second most memorable thing will be the huge red-brick castle of Gripsholmslott, a truly impressive edifice on the lake shore which we wandered around but didn't pay to go in. State rooms bedecked with 18th century finery never excite me as much as the architecture they hide in. The village itself is pretty but could only detain us half an hour. Zoom, we're off.
We cross Lake Malaren northwards, island-hopping over bridges, and head for Uppsala. Southern Sweden has a landscape quite different from anywhere in the UK. It's pretty flat, perhaps undulating would describe it best, with lakes and inlets everywhere. There's loads of forest with little patches of agriculture in between, and that's because the forest all grows out of rocky igneous outcrops – the big dome-shaped boulders easily visible among the trees. We associate rocks with mountains, but here there are rocks exposed everywhere in an otherwise flat landscape. Here endeth the geological observations.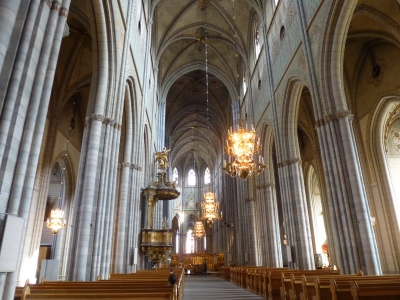 We explored Uppsala and Sigtuna before heading back to Stockholm. The former is a small university city, with a handful of charming buildings around the cathedral and university. The latter is the first capital of Sweden but now a small village whose main street follows the route of what was the first street in the country. It's interesting to poke around the trio of ruined churches and the medieval runestones scattered around the area. In fact, our whole day reminded me of days out in the car exploring little low key areas of England; a patch of the Cotswolds or a bit of Shropshire. Pleasant.
Back in the big city we ticked off another district by walking out to Kungsholmen for dinner (a guidebook-recommended tapas place, so as you might expect: inoffensive but unmemorable) and strolling around afterwards as the dusk settled. The southern Swedish countryside seems fairly amiable but unexciting; I'm so used to visiting countries with villages and landscapes more fascinating than back home that it's actually quite pleasing to find somewhere (dare I say it) a bit less charming.
Still, my belief holds. I feel immensely more satisfied having seen at least a little bit of Sweden that wasn't Stockholm.