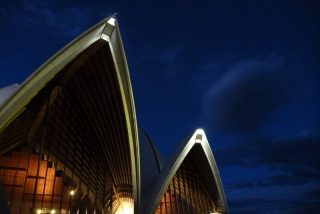 11th April 2011
I'm really delighted by the Sydney Opera House. Every big city should have one. Not exactly the same, obviously. But every big city should have a venue for the arts that is:
Central and impressive from afar, providing a focus for the cityscape
Unique and ambitious, to astonish the first-time visitor and delight the resident
Imposing and grandiose up close, so that any visit feels like an occasion
With outside spaces for pleasant days and inside spaces for wintery
Offering views of the beautiful night-lit city, so looking out is as pleasant as walking in
With bars and eating rooms that make you feel both stylish and comfortable
And of course a selection of splendid concert and performance spaces within
We heard Rachmaninov's 3rd Piano Concerto and 3rd Symphony, and while I'm still not really keen on the Romantic composers it was a good performance and I enjoyed it. But I mainly enjoyed it for the evening out and the setting. This is our swan-song for city life, though; tomorrow we head for Tasmania and back to the serious business of looking for wildlife.