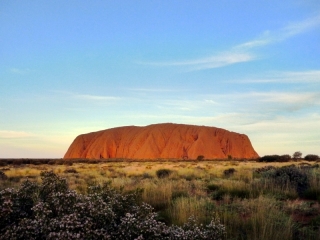 13th May 2011
Today we visited what is indubitably the most famous rock in the world, Uluru. Still referred to in a surprising amount of tourist literature as Ayers Rock.
We rolled the remaining 100kms to the Yulara village just outside Uluru and started our day with some brunch. The baguettes we chose would have made British Rail proud; a wafer of smoked salmon and a sliver of avocado carefully concealing the real content of the roll, which was lettuce with more lettuce. We stopped off at the supermarket too, to gather up some provisions for all our driving around the Outback. Our route would be four days, and with literally no human habitation between our overnight stops we'd just have snacks in the car instead of lunch. Fresh fruit is naturally a luxury in the Outback, but £4.60 for two bananas still seemed a little pricey.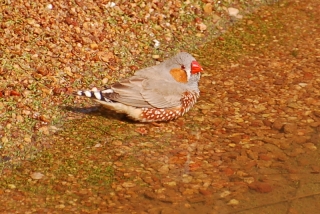 At the Uluru National Park itself the entrance fee runs to $25 (£16) per person for 3 days' access. It doesn't matter that we are only here for one day, there's no option but to get the 3 day ticket. Now that we've spent our day in the park, I can report that there are exactly two things to do here: walk around Uluru and walk around Kata Tjuta. Hand on heart, there is absolutely no reason for anyone to visit this park for more than 2 days. One could almost imagine the 3 days' access is just a cynical ploy to make the $25 seem less steep…
But it turns out that we'd have happily paid $25 for only one day, because Big Red is just as astounding in the flesh as my imagination anticipated. Up close or far away it seems laden with meaning and significance, a heavy presence in the heart of the continent. Stare too hard at the point where the rich red rock meets the azure blue sky and your vision starts to fizz.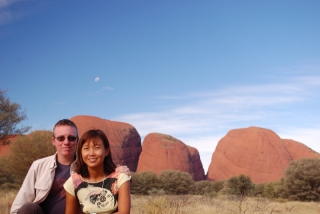 The other sight in the park is the Kata Tjuta, another huge red rock mass but this one is a many-headed archipelago of megaliths in the desert. They too are breathtaking with a character that changes as you trek around and between them.
So while we still feel a bit irked by the relentless tourist money-gouging at Yulara, the feeling is easily banished by the rocks themselves. And by the very excellent bottle of Crabtree Riesling that we ploughed through this evening – so good it even tastes great out of coffee mugs. On the way back to our cattle station in the dark we saw wild camels in the desert, a pair of them just off the road.