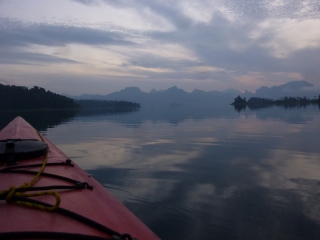 29th December 2010
I'm referring to the guides that we've gone with in various places to help us find wildlife – Madagascar, Bardia, Hala Bala, here. You obviously pay a premium for this, and each of these four trips has come out of our "special fun budget", but a good local guide is crucial for spotting much wildlife in these heavily forested areas. They know where the animals are found, what habitat, what time of day, their distinctive calls and their usual perches. They also have sharp eyes and keen hearing from years of practise.
From the extremely adept Quiet Jacqui in Ankarafantsika to the all-knowing Jan and Tu at Hala Bala we have had superb guides. Even when their English isn't good, we're wowed by how well they spot and identify birds and beasts we'd have walked right past.
Okay, you can see what's coming.
Our guide here in Khao Sok is a bit crap. "Bau, what's that hawk up there?" "I don't know… it's not an osprey though." "Bau, what kind of monkey is in that tree?" "It's a monkey." "Bau, which bird was that we saw earlier?" "I don't know, maybe Dave (fellow tourist) might know." If you're clever, you'll have noticed that as well as failing to identify the wildlife, Bau also isn't the one spotting it. His English also isn't great, and he's not really a model of organisation either. I'm writing this blog during the time we're meant to be visiting a waterfall, but the boat hasn't returned yet so we can't.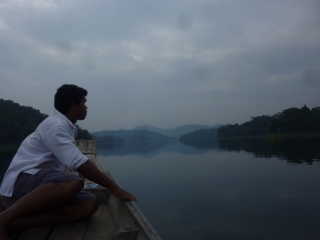 Khao Sok is a lovely place, and we enjoyed paddling around looking at hornbills and monkeys this morning. Bau is a nice guy, and he's only been guiding in Khao Sok for 2 months so it's hardly his fault. If I sound sour, it's because we paid top-dollar for this treat, and we could have paid a heck of a lot less to come to Khao Sok independently and pootle around seeing what we could spot ourselves.
(Update) We spent the afternoon out on a longtail boat, and caught a glimpse of the mighty gaur. The gaur is the largest bovine in the world, heavier than any bison or buffalo. It obviously revels in the title of World's Biggest Bull as it keeps its hide close-cropped to show off a massively muscular physique that would make any bodybuilder give up in shame and might give a Tyrannosaurus Rex pause before attacking. It goes without saying that it was the teenage skipper of our longtail who spotted the gaur, not Bau.