14th June 2011
That's what Aguas Calientes is, the town in the valley that is the gateway to Machu Picchu.
The local government clearly issued an ordinance stating that all buildings must be high-rise and made of concrete or cheap brick, and that no attempt must be made to cover the raw construction materials with anything nice like plaster or render. All the restaurants in town have agreed on a common menu of overpriced tourist food centred on pizza and steak, except for the handful of places that have gone for upmarket food and inflated their prices appropriately. And all the shops sell the same rubbish souvenirs.
You stay the night at Aguas Calientes in order to be able to get up to Machu Picchu very early the next morning. Those who like the adage "no pain, no gain" would approve deeply.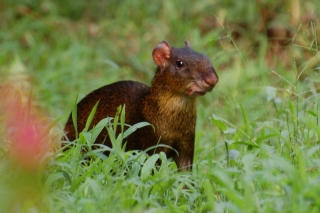 That said, with several hours of daylight to kill we walked off along the railway tracks and found ourselves in a steep and winding valley surrounded by rainforest. An hour and one passing train later we found the Jardin de Mandor, a little chunk of rainforest with a waterfall that has been turned into a botanical garden. The old ladies looking after the place were very friendly and gave our duff Spanish a good workout. We had the gardens pretty much to ourselves, and were surprised to spot a couple of dark coloured agoutis in the grasses. Best description of an agouti would be a very large and athletic short-haired guinea pig.
Later we had a meal at one of the upmarket restaurants, the Tree House. They've achieved the right atmosphere and presentation for contemporary fine dining, but the actual food falls short; Maureen's trout ravioli was overwhelmed by its sauce and the smashed potatoes with my cuy (guinea pig!) was badly over-salted. Eating guinea pig is very similar to eating a small game bird, both in taste, texture and quantity of really tiny bones.
Early to bed. Our hotel, while stringently character-free, is at least comfortable and warm.