13th February 2011
When I went to bed last night I noticed that my left forearm was tingling and almost numb on the underside. Not painful, just very weird. I couldn't work out what was wrong until recollecting the journey back from Rinca island. We were all very tired and Maureen slept with her head on my lap. I nodded off too, but to keep myself upright I wrapped my arm around the back of the bench. So for almost two hours my arm was raised high and also had restricted blood flow because of the awkward angle.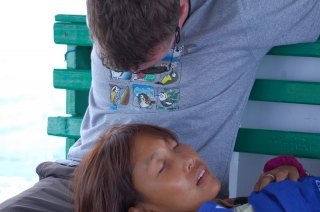 I had all sorts of worries that I had killed the tissues in my arm through lack of circulation and they were going to go necrotic overnight and result in me losing my forearm. Necrotic – that was the particular word that kept going through my head. Seven hours after the boat trip I still had a numb arm when I fell asleep, and perhaps unsurprisingly I slept badly and had plenty of nightmares.
Today Tim and Vanessa rested while we went out for another snorkelling trip, on the little boat from the lodge. It was carrying more than a foot of water when we got in – the crew had to bail most of the way! The snorkelling here was superb, with a huge array of fish. We saw lobsters, mantis shrimps, small barracuda, lion fish (I think), and Maureen even spotted an octopus. At one point all the little fish started swimming up to us and trying to nibble our outstretched fingers. I can only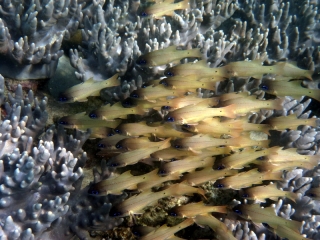 imagine that they sometimes get fed here, because it was all the same species that would normally swim away. Anyway, far less alarming than the suckerfish!
This evening the arm is still numb, so maybe I'll still lose it. But Tim and Vanessa can both think of examples of work colleagues or friends who have had a limb in an awkward position for a long time and then taken several days for the numbness to wear off. I'll keep you posted!