27th October 2012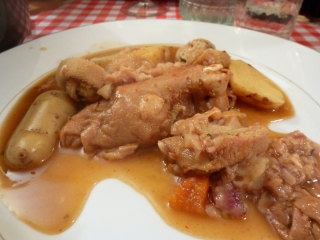 There's a gale blowing outside and it's icy cold on the streets of Aix-en-Provence. It was warmer in the Swiss Alps! Stupid cold front. But at least we're back in our hotel room and nicely full of a very nose-to-tail dinner. By which I mean that Maureen had a delicious dish of "langue de boeuf", meaning tongue, while I enjoyed "pieds et paquets"; a dish of lamb's foot and stomach. I had never realised that the French word for 'language' is literally translated as 'tongue'. As usual, we both could have enjoyed some vegetables with it.
You don't have to have weird stuff in France. For lunch we had pancakes with nothing more scary than ham and cheese inside.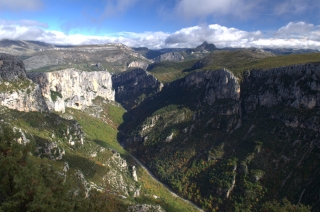 Today we roamed up the side of the very epic Gorges du Verdon. It's a majestic bit of geography, sheer slopes clothed in dark evergreen trees and punctuated by pallid cliffs dropping up to 800m to the exceedingly sinuous little river below. The village of Rougon perches picturesquely behind an outcrop of rock and provided us with our lunchtime pancakes. This is what I expected of Provence; a double handful of terracotta roofed cottages clinging higgledy-piggledy to a hillside otherwise swathed in olive trees and grape vines.
Oddly disappointing in contrast were the Haut Var villages we visited in the afternoon. Time being tight, we strung together three that our Rough Guide said were the most typical. The problem was one of expectation, I think. These weren't villages, they were towns. And as we eventually warmed to the third one, Cotignac, we decided that they were handsome and pleasant little towns to explore. But when your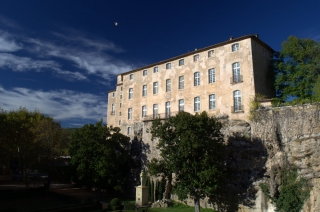 guide calls them villages and you picture Rougon-but-even-prettier, finding yourself in the middle of a town square with not a vine-clad hillside in sight feels like a wrong turning.
So, if you ever go, they are Haut Var towns.
Aix looks handsome. But as we drove through the Provencal vineyards to get there the wind began to pick up, and by the time we emerged from our dirt cheap hotel on the outskirts to go into town for dinner there was a gale blowing. Most definitely a gale: we were already having to dodge a few branches on the road, traffic cones were definitely not where they should be, and it took half the amount of time and energy to walk up one road than it took to walk back down it. So now we can say that we've experienced the Mistral! Apparently it has arrived unseasonably early. Oh goody.