13th April 2011
Rain, rain, rain, rain, rain, rain, rain, rain, rain, rain, rain, rain, rain, rain, rain, rain, rain, rain, rain, rain, rain, rain, rain, rain, rain, rain, rain, rain, rain.
It finally gave up raining once we'd settled into our accommodation at about five in the evening. Hilariously, a guy at one of the wineries we visited today was telling us in all earnestness that Tasmania is one of the driest states in Australia, and Hobart the second-driest state capital after Adelaide. I couldn't help glancing out the window.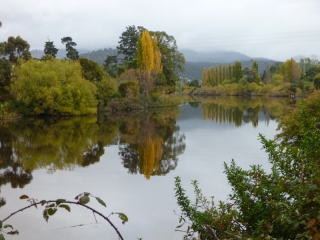 But since we were consoling ourselves with wine-tasting today, we did have alcoholic evidence that Tasmania manages a fair amount of sunshine. Interestingly all of the wineries here seem to be quite boutique, only making what they can sell at the cellar door or to very local markets; Tasmania, or perhaps the south of Australia. There's some very convincing Pinot Noir out here, and I enjoyed a complex and autumnal bubbly enough to buy a bottle. This must be one of the most southerly wine regions in the world, the fact that some places are playing with the same insipid German varieties that get used for wine-making in England shows they're on the climatic edge of wine.
Anyway, the place we're staying tonight is the absolute business for getting cosy after a rainy day. We have a big wood-floored cabin all to ourselves with our first bath in ages, loads of space to spread out in, and a huge wood-burning stove in front of which I am warming my cockles even as I type. There are platypuses in the pond outside, though we haven't seen them yet, and now that it's dark there are wallabies in the grass beyond our veranda.