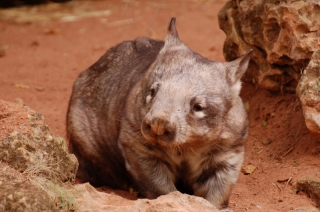 10th May 2011
Well, we didn't see the dratted Hairy-nosed Wombat this morning either.
It's one of those cases where reality and expectation clash. Before we went to the Flinders we were under the impression that the Yellow-footed Rock-wallah was rare and hard to find, so we were delighted to spot two in the evening at Warren Gorge. We knew all along that tigers are super-rarely seen anywhere, so we weren't disappointed that we didn't see one in Bardia. But we'd formed the idea that because Hairy-nosed Wombats stay close to their burrows and the burrows are easily found at Brookfield Conservation Park it would be just a matter of modest patience to spot one. Nope. One afternoon, one morning, zero wombats. And because we have a train booked tomorrow morning we don't have any option to say "well, let's just give it one more try."
Actually, setting high expectations is something lots of people do far too easily with wildlife. We've heard so many "you really ought to see one or two around here" or "just look along this road, they're usually around" and then almost as often the surprised "oh, you didn't see one?" when we didn't. People who live or work in a particular natural area often don't put themselves in the shoes of a visitor who is there for only perhaps two days. If they see an otter (for example) roughly once a week then they see otters fifty-two times in a year, which translates to "they're usually around". It's understandable, but frustrating.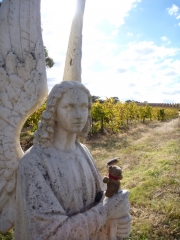 Anyway, we quenched our disappointment with some wine tasting. The most obvious area to visit near Adelaide is the Barossa Valley, but this was sounding quite touristy and full of big mass-producers so we went further north to the Riesling-specialists of the Clare Valley. That said, our first stop accidentally turned out to be a big producer, but having detoured a few kilometres to get there we decided to stop for a taste anyway. We've had so many lovely wine tastings on our travels, it was instructive to discover that none of wines here really impressed us at all. In other words: we
can
detect quality.
So our next winery, Crabtree of Watervale, was a real delight. Their cellar door Riesling was smashing, really oily and flavoursome without losing out on lightness. But my favourite was their Zibibbo, which I'd never even heard of but which is apparently an Italian way of treating a Muscat grape. This was pure winery magic. It had stunningly clear rose petals and turkish delight on the nose, and amazingly the palate had exactly the same tastes. It's only a tad sweet. We bought a bottle. Okay, and one of the Riesling too.