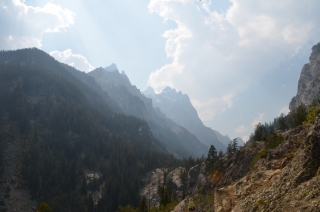 16th September 2012
Another pre-dawn start, this time driving in search of wildlife. Our first spot was a gaggle of cars at the roadside, always the most obvious sign that there's an animal about. It was a family of moose, although we were a little late to the party and could only see them at a distance; they had just walked right across the road. Beyond the moose it turned out to be a very poor morning's wildlife spotting, just a few elk and a mule deer. Okay, and a herd of bison. They're so obvious and easy to spot, so oblivious to the humans parked next to them, that it's easy to overlook the most massive and iconic animal of the western plains.
The southern park of the NP is ill-served for those seeking lunch, with only Jenny Lake Lodge showing a little knife-and-fork sign on the map. And when we got there it became clear that lunch could only be taken in the swanky dining room and no food was available before 12. So we loitered around until we could get a table, then sat down in our dusty hiking gear.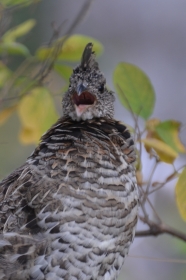 The afternoon was a hike up to Hidden Falls and Inspiration Point, probably the most popular hike in the park and fairly busy even in September. We continued on from there up the Cascade Canyon, expecting to leave other people behind but in fact finding quite a few coming down. Very good for wildlife too. We spotted yellow-bellied marmot, pikas and an American marten. I have good reason to kick myself over this last sighting. Like the worst sort of tourist I let the camera take over and went off jumping onto rocks to try and get a good view of the retreating marten, guaranteeing that there would be no chance of the animal stopping somewhere visible. That's not how to watch wildlife, especially when there are four other people who also hope for a good look at the wee beastie.
One last really frustrating thing happened on the hike. As we walked up the canyon we passed others walking down. And group after group (five in total) said to us "we saw otters further up, playing in the river". We even got them to explain exactly where. And after all that, we were apparently a couple of minutes late. Not an otter in sight. A couple of groups said they caught fish, so there's every chance they'd finished feeding and gone indoors to sleep it off. Bother.