16th May 2013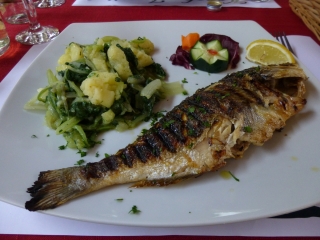 Relaxing final day exploring Dubrovnik old town at leisure, dodging rain showers. Just like in France, the weather is hinting that it's time to go home.
When I travel anywhere in the world I like to try local food. Not just sample specialities, I mean that I prefer to eat my dinners where the local people eat. Every part of the world has its own cuisine and it is usually simple and delicious.
The trouble is, we like to tour. We like to pack a lot into our holidays, see a lot of different places. This week, for example, we have typically ended every day in a tourist destination – Dubrovnik, Kotor, Trogir, Ljubljana, Dubrovnik. Unless you have time to stay and explore a while, it is bloody hard to find local food in a tourist spot.
Dubrovnik is typical. We had a lovely lunch today: squid ink risotto, then some delicious fried fish with vegetables on the side. You'll find exactly the same menu in almost every non-pizza restaurant in Dubrovnik old town (we looked) and the only difference will be just how nicely it's cooked. This was probably one of the best. But I bet you a million dollars that very few Croats eat a simple pan-fried fillet of fish with veg accompaniment very often.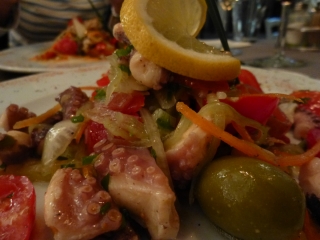 Guidebooks are almost no help. We picked a place in Ljubljana because our Rough Guide told us that locals enjoy eating here. Of the four tables dining, all four were tourists. The same was true of the place we ate in Dubrovnik on our very first night, another spot the guidebook said was beloved of locals. And the place in Split, too. In fact this happens so often that you'd think I'd learn: every holiday we aim for a place the guidebook claims is enjoyed by locals only to find that it is filled by tourists.
Question: how many years after a guidebook claims a restaurant is beloved of locals does it take before every single customer is a tourist?
So, I've learned. If I want to enjoy proper local cuisine, as we did on our trip around the world, I've got to slow down and create an itinerary that involves staying a while in one area and exploring outside tourist destinations. If I want a touring holiday, I should just eat wherever I fancy and not care whether the restaurants are all cheerfully catering for tourists or not.
Our holiday to the Balkans was great: seven packed days, six UNESCO World Heritage sites, one truly splendid dinner, and a little bit of warmth and sunlight that I'm already missing back in damp Ludlow!