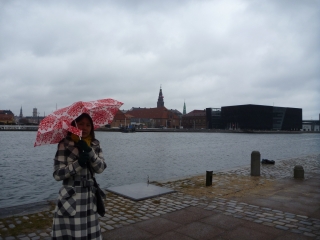 We had one last day in Copenhagen, as our flight wasn't until almost 8pm. Alas, the clouds had come to play and by lunchtime it was raining. It wasn't any warmer either, nor was it less windy, so Copenhagen seemed to be doing its best to tell us to go away. Probably because I said it didn't inspire superlatives.
It was a damp squib in more ways than one. Being Good Friday meant that all the shops were closed, so the city felt like it was in a bit of a lock-down. I was reminded of our experience in Hobart. Thankfully there was at least more than a few cafes open, so we had Danish pastries for breakfast and then excellent smorrebrod (open sandwiches on rye bread) for lunch.
In between snacks we visited a couple of galleries, and perhaps we were tiring but I didn't find much to excite me in the Golden Age of Danish art. The National Gallery has a good collection of French impressionists, though, and the Carlsberg gallery a good collection of French sculpture. Eventually, probably inevitably, we suddenly found that we had spent too long walking around galleries and were now knackered and not looking forward to lingering at bus stops in the freezing rain and trudging back to collect our bags for the airport.
Nevertheless, we had to.
On the plane, we reflected that it had actually been a very excellent short break in Denmark and the rain today only highlighted the superb wall-to-wall sunshine of the other three days. The Danes have been very welcoming, in their brisk and businesslike way. Staff in restaurants are obviously specially trained in smiling and small-talk, but otherwise we were always dealt with politely and concisely. I'm certainly looking forward to a longer visit to Denmark, but I'll be heading straight from the airport to the car rental desk and exploring the rest of the country.