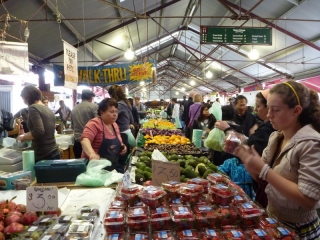 23rd April 2011
One repeated theme of this year is noticing how varied people's impression of a place can be, based on their own experience of it.
Mum and dad visited Melbourne before meeting up with us in Perth, and they enthused about the city and particularly the convenience of "just hopping on a tram and getting to where you want to be, it's really easy." Which is great, because public transport systems in big cities can often be frustrating, right?
So we left our hotel at 10:30 to visit the famous Victoria Markets. It was a 10 minute walk to the nearest tram stop, which is fine, but then we spent 5 minutes trying to fathom which tram we wanted and how to pay. Turns out you can buy a single ticket or a day ticket, the trams only take coins, and we only had enough for single tickets. Not wanting to waste money, we noted that you can also buy tickets at train stations and there was one nearby. So we walked 5 minutes to the train station and then discovered that there was no ticket booth at this small station and the machine… only took coins. Vexed, we bought single tickets and went outside to the tram stop.
We ignored the first tram to arrive – it was a 109 and we wanted a 24. After 20 minutes there had been no other trams, so we jumped on the next 109 that appeared. This took us part way but then wandered off course, so we hopped off and waited for a City Circle tram to take us the rest of the way. It was 20 minutes before one arrived and it was packed. Hey, we've used the Tube on a busy Saturday – we wedged ourselves in among the other armpits and rattled off. 10 minutes later and we only had a 5 minute walk to the markets. It was now 12:00 midday and the whole trip took 90 minutes. At just under 2kms we could have walked it in 35.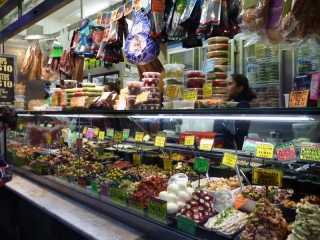 The Victoria Markets really are good. Of course, there's none of the exotic allure of weird foods you'd see in an Asian market. But it's huge and busy, and the deli section in particular is a smorgasbord (now there's a word I must use more in these blogs) of epicurean displays. Rather than eating out, we bought the makings of a truly gastronomic cold supper and a bottle of good Cabernet.
We got another City Circle tram part way back and walked the rest. It was as squashed with tourists as the first one. While waiting at the tram stop we noticed a timetable that indicated the number 24 tram only runs Mon-Fri. The tram stops we waited at this morning didn't mention this at all. Bonkers.